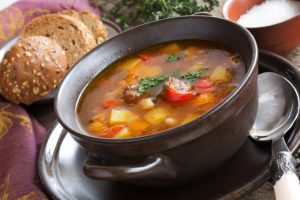 September has not been too bad weather wise here in the UK, especially down south. We've had some gloriously sunshiny days mixed with rain at night. Although the most notable change has been the drop in temperature at night, especially when the sun disappears leaving a definite chill in the air. Later this week forecasts are predicting that once again we may have the start of an Indian Summer, giving us some extra time to get outside, harvest our late summer crops and enjoy our gardens.
If you still have fruit and vegetables ripening and growing, here are some of our favourite autumnal recipe's you can enjoy with your home grown or of course shop bought produce! It's time to put your feet up, pull back your gorgeous solid shutters and enjoy the autumn scene in your garden whilst eating delicious home cooked food.
Autumn Tomato Chutney
This recipe is a great way to use up your late surge of tomatoes as well as any apples you may have from your garden. With a little sugar, onions, raisins, pepper, ginger and cider vinegar you'll soon have a marvellous tasting chutney which would be a great addition to any post-Christmas buffet lunch or dinner.
Autumn Vegetable Soup
The wonderful thing about vegetable soup is that you can pretty much add any old vegetables lurking in your cupboards or fridge to create a heart-warming hearty soup to take the chill away. You can add thickeners as well such as potatoes or chick peas along with herbs and spices and then either leave it chunky or blend it to make it smooth. And why not add some cheesy toast on the side, after all the soup is a healthy, low calorie dish so you can afford to have a little naughty something on the side!
Autumn Coleslaw
This recipe is another great way to use up late growing vegetables from the garden. Celeriac, carrots, red cabbage and apples, mixed with a handful of seeds for a different taste, natural yoghurt, mayonnaise and a little Dijon mustard will really bring this coleslaw to life. Add a little to your favourite sandwich or ploughman's lunch for a sumptuous crunch!
Autumn Pudding
This old favourite simply bursts with autumnal flavours and can even be made in advance, very handy is you're entertaining and would like to prepare as much in advance as possible. You can use all of the fruit from your garden including plums, peeled apples, pears, blackberries and raspberries. Just add some butter, cinnamon and spice to the fruit and then add flour to the suet with a zest of lemon. A punchy pudding full of autumn wonder!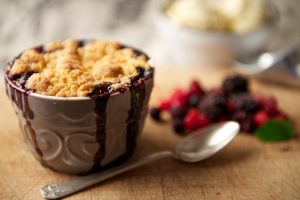 Apple and Blackberry Crumble
A staple for any meal, the good old apple and blackberry crumble should never be over looked. Add some cinnamon and spice for a new dimension and for an extra crunchy yummy crumble top why not pre-cook the topping as suggested by Raymond Blanc – https://www.raymondblanc.com/.
You can find all of the above recipe's on the BBC Good Food website – http://www.bbcgoodfood.com/recipes/collection/top-20-autumn.