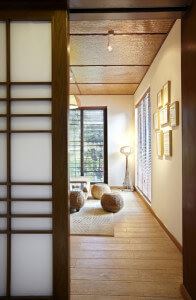 Once upon a time, not so long ago, new houses had small kitchens, separate dining rooms, living rooms, utility rooms, studies and halls.  Anyone looking at buying a new home today will realise that we are suddenly living in a world without walls – an open plan era.
This cultural transformation began in the mid 1980's with the "through lounge" and in the 90's with the "live-in kitchen".  Dining rooms became a thing of the past, studies merged into a nook in the lounge and kitchens changed from the utilitarian galley for food preparation to become the hub of the home, enlarged to incorporate a kitchen table.
It is almost ironic that this transformation came at a point in time when the family meal was slowly being replaced by the pre-packed ready meal; and screen based technology almost guarantees a disconnection with family communication.
Where once we had rooms, we now have generic 'spaces' offering a blank canvas for the new owner to live as they please.  Delightful as this may seem, to have living areas melding into each other, there is still a need to visually demark zones according to their desired use, yet without losing the free flowing effect.  If not, the natural tendency to push large furniture items e.g. sofas and book cases against walls could make your home feel like a large tunnel.
The simplest way to do this is by the use of open book shelves.  They ensure light can travel through the structure, when enabling you to decide how much space you would like to give each area, while offering you the opportunity to display your favourite pieces of art.
A quirkier solution would be to use plant walls. There is an enormous variety of options to choose from when it comes to the green appeal of this living-space division. Elegant troughs of tall green plants (eg bamboo) or specially designed planter walls can provide an interesting effect, places such as The Garden Centre Group have excellent selections. Yet of course, however beautiful this solution may be, the intention of this style of room division is that they are living and therefore need watering – be warned planters on wood floors or carpeted areas can stain.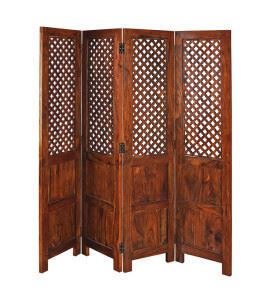 The traditional way rooms can be split is by using zig zag screens. These come in an enormous range of styles from recycled solid shutters to decorated Japanese paper screens and beyond. The advantage of these is they can be used and folded away easily.  Beautiful as they may be they are self- supporting so their footprint needs to be quite large to ensure that they do not topple over.
Finally, there is always the option of adding see-through curtains. If you require more space at a moment's notice they can simply be drawn back to accommodate your additional guests.   They offer light, privacy and flexibility; what's more, they can be combined to match with changing fashions in your room's, and they can also be easy changed if you choose a new colour scheme.
Whichever style of room division you prefer, there is ono other huge advantage of living – aside from the un-interrupted wifi signal – stroppy teenagers now have to stomp all the way upstairs before they can start slamming doors! That has to be a bonus in anyone's books!