It's that wonderful time of year where leaves are falling, bonfires are burning, and Halloween and Bonfire Night are just around the corner. After the year we've all had many of us are embracing the things that we have missed with more gusto than normal. So, if you're planning to celebrate Halloween this year why not decorate your garden too?
If you've never decorated your garden before here are some great Halloween Garden ideas to get you started.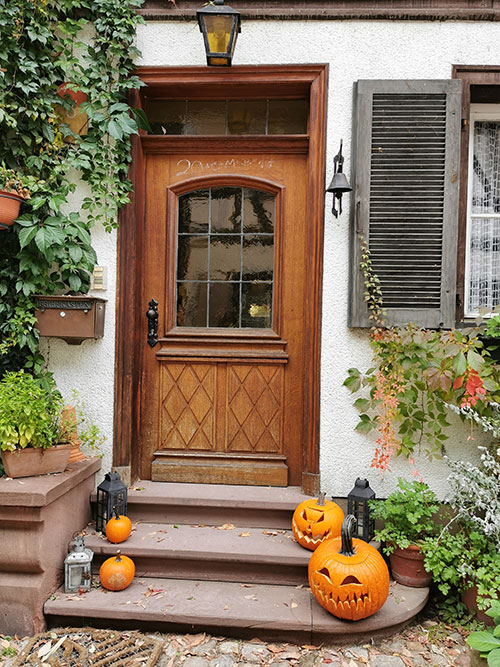 Pumpkin Display
A traditional carved pumpkin is a great way to decorate your doorstep, but to up the ante this year why not have several and create a pumpkin display? Use different sizes so that you can display them effectively or place them on a shelved platform, so they sit at different heights. You can carve different designs into each one to create a really effective display for your trick or treaters to admire.
Spooky Signs
If you have some old wood why not create a spooky signpost. Use a piece of wood as your post and then nail smaller bits of arrow shaped wood to it. You can paint these bits of wood in black, white or red and label them with such names as Halloween Village, Skeleton City, Bonesville or Sleepy Hollow. You can use dripping blood effects and scary writing to really make the signs creepy.
Graveyard Headstones
Graveyard headstones are a great way of creating a spooky scene in your front garden. You can use different materials for creating these such as cardboard, foam or wood. The funniest part of creating headstones is the details you write on each. So, get creative and have some fun with your names, dates of death and epitaphs.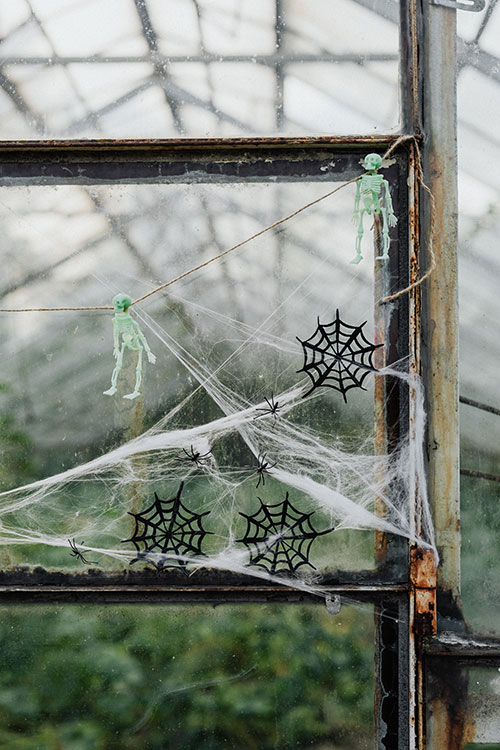 Spider Webs
There's nothing creepier than walking into a spider's web! If you fancy giving this a go you could drape your web over your garden hedges, trees, fences, or walls and even create a massive fake spider to really scare your visitors. You can use net curtains and cut holes out and then drape over the area you'd like to cover or for a more traditional shaped spiders web you can use string. To find out how to weave your web follow these instructions: https://decorhint.com/how-to-make-a-giant-spider-web/
Window Dressings
Of course, your windows are also a great place for you to create a spooky Halloween display and really easy to do if you have plantation shutters. Using black cardboard, cut-out Halloween shapes such as witches on broomsticks, cats, spiders, skeletons, and bats. Once you have your shapes fix a piece of cotton or string to them and then simply hang them from the slats of your shutters. To really showcase your window scene, use an orange light to throw an eerie glow over your display.
You!
Don't forget to dress up to scare your trick or treaters. From witches to Dracula, from ghosts to zombies, you can dare your trick or treaters to take a treat from your basket! For a really easy costume simply get an old white sheet, cut some eye holes out so you can see and pop it over your head. A very simple but effective way to make sure you too are Halloween ready!