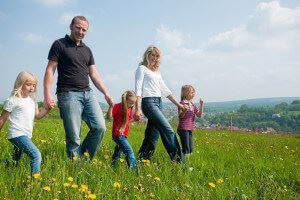 The Vale of Evesham is well known throughout the UK for its wonderful supply of fruit and vegetables. During the spring for just a few days, nature shows itself off in a spectacular display of blossom, from mid-March to mid-May, making Evesham a beautiful place to visit during these weeks.
There is an official Spring Blossom Trail that is well signposted and takes you on a 45 mile route around the countryside where you can enjoy the beautiful scenery and take in the amazing array of different shades of pink and white blossom. The spectacular colours come from the different varieties of apples, pears and cherry trees that line the roads and orchards.
The trail takes you through several villages such as Evesham and Pershore and the Cotswold village of Broadway. You can also enjoy the trail on foot or by bike and if you do chose to leave the car at home you will also experience the sensual smell of blossom that cannot be enjoyed at any other time.
There are three walks and four cycle routes that have been created with the spring blossom in mind but as the countryside is so beautiful regardless of the blossom, all of these trails can be enjoyed at any time of the year.
As well as enjoying the beautiful scenery there are many farm shops along the trail where you can buy the locally grown produce. As well as farm shops there are a variety of pubs, restaurants and cafes that serve home cooked food where you can enjoy a bite to eat along the way. And if the weather is fair why not enjoy a picnic out on the trail or down on the banks of the river Avon.
There are many other activities and attractions for you to enjoy in Evesham from historical buildings to magnificent parks, Trip Advisor has a great list of suggestions that are sure to suit everyone. With so many different activities on hand, a visit to Evesham can be enjoyed at any time of the year.
Maybe you have a few fruit trees in your garden where you can enjoy the spring blossom from the comfort of your own home. With the weather turning slightly warmer it's time to throw open your plantation shutters and let springtime into your home.