This Mental Health Awareness Week at Purely Shutters let's talk about how your interior design could be impacting your mental health. This year's mental health awareness week focuses on anxiety, so we've put together our top 5 interior design tips to help reduce your anxiety. Interior design may not be the first thing that comes to mind when thinking about mental health, however, studies suggest there is a correlation. Mental health is essential to our overall well-being and interior design can often be a key factor in promoting a positive outlook.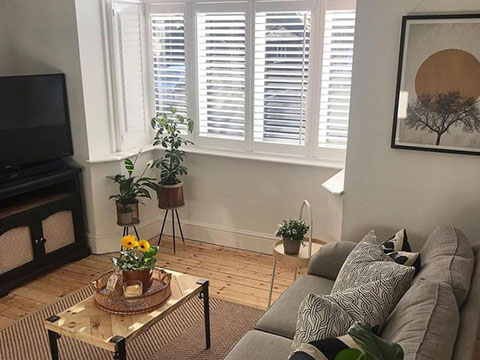 Incorporate plants in your living space
It's time to get your green finger out, as studies have found that plants can have a calming effect on us, increase creativity and help us focus. The popularity of plant-filled interior spaces on Instagram has risen tremendously over the last decade. According to a 2009 study, surroundings devoid of natural elements have a negative impact and indoor plants have the capacity to lower stress levels and even health concerns.
De-clutter your space and embrace minimalism
It's time to refresh those cupboards, practice labelling and stop hoarding. Being more organised and tidier is proven to elevate your mood in your living space. By maintaining a clean and tidy home we can reduce the stress of not being able to find the things we need quickly, maintain an orderly environment and free our minds of clutter.
When you're depressed, burned out, or anxious, it can be difficult to think clearly through all the clutter. That's why it's key to have some straightforward systems in place that will make it easier to keep your spaces in order. Take note of the items you frequently misplace and create a clear and designated home for each one. For example, the keys can go on the small hook by the door, your phone can always be returned to the charging station in your office, and your sunglasses can live in your daily handbag when not in use. The key is to pick one intuitive and designated spot and commit to it.
Avoid angst-inducing colours
Researchers in the field of neuroscience have discovered how you can enhance our mental health, reduce stress and weariness, and even inspire creativity by analysing colour psychology in your home. Specific colours can be used to create a nurturing, harmonious interior which will aid mental well-being. Various colours represent different feelings and emotions, for example, green is thought to evoke feelings of balance, whereas we often associate cheerfulness. In his 2013 book Drunk Tank Pink, Adam Alter studied the impact of colour, observing that people are more terrified by tests with red covers than with green ones. Theories that Baker-Miller pink can lessen violence have been around for years. Living areas should be painted with this in mind, which means avoiding psychologically stimulating tones like orange and preferring soft, neutral colours that instead produce a relaxing effect – for example, blues are particularly appropriate for bedrooms. Although colour and design expert Karen Haller cautions that too much grey may become tiring, grey can also aid in our ability to relax.
Make the most of your lighting
Skilled interior decorators and architects have understood the significance of controlling light to inspire mood throughout history. According to an Italian study, appropriate lighting can promote harmony, specific emotional states like melancholy or tiredness, or specific cognitive abilities like productivity or efficiency.
Bright natural light is thought to amplify our emotions, whether they are happy or negative, and dimming the light can aid in our ability to think more clearly. In the bedroom, blue light should be avoided since it might decrease the production of melatonin and prevent us from falling asleep. Blue light makes us more awake, which makes it a suitable choice for home studies.
Once you've mastered the interior layered lighting, combined with the ability to regulate natural light with shutters, you'll have the ultimate ambient spaces for all occasions. Start your journey towards your dream home today, and fill out our form for a quick quote or get in touch for a free survey today.