One of the many benefits of having shutters fitted to your windows is that they are built and designed to last for years. However if your window shutters are coming to the end of their life or you are thinking of changing your existing shutters you may be wondering what you should do with your old ones.
With recycling being an ever present theme in the news, be it with household waste or using renewable energy the last thing you will want to do is to create more rubbish.
With a little bit of imagination and some hands on restoring such as a lick of paint, you will be able to transform your old wooden shutters into enviable additions to your festive decorations to be used year after year.
To expand on our previous blog about upcycling shutters we have found 5 fabulous Christmas ideas that you could use your old shutters for. Some of the ideas you can even change for each season so you can use them more than once a year.
Decorative Painting
If you have an artistic flair you could draw a Christmas image on your old shutters. Even if your free hand is not all that great you could always trace a festive image that has caught your eye. Once you have drawn your image, painting the image in lovely vibrant Christmas colours will really help bring your old shutters to life. These revitalised shutters can then be used to bring some festive cheer either around your home or placed in your garden, maybe with some Christmas lights to make sure your handiwork is shown off in the dark. If you have two spare shutters you could even place them on either side of your front door for a really festive welcome.
Christmas Card Hangers
With a lick of paint in festive colours and a good old spruce up you will be able to use your old shutters as fantastic Christmas card holders. Maybe a backdrop design of a snowy winter land or if you don't feel that artistic just a green and red background with some tinsel draped here and there will set your Christmas cards off in style. You can hang your shutters either vertically or horizontally depending on the space that you have available or even stand them on a side table or on the floor. Just slide your cards through the closed slats and use a small clothes peg to keep them from sliding out. Now your Christmas cards will be secure and you will be able to show them off in a unique way.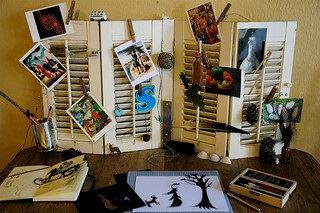 photo credit: photo credit: Blue Yonder via photopin cc
Christmas Ornaments and Messages
Some people buy new ornaments every year for their Christmas tree. We think Marks and Spencer have a lovely selection of the latest colours and themes, but if you fancy making your own, you can do so by using the slats from your old shutters. All you need to do is remove the slats from your old shutter frame and then decorate to your hearts content.  You can glue tinsel and ribbon and festive objects to your slat and even make festive messages from letters and words. When you have finished decorating just tie a piece of string from the ends of the dowels and you are ready to add the final touch of winter décor to your tree or indeed anywhere.
Seasonal Shelf
Another great idea for old shutters is to either add them to an existing shelf or create a new shelf for your decorations. This will really add some character to your home. This idea is so versatile it can be used at any time over the year. For a Christmas theme just chose the colour to paint your shutter, add some hooks and you've created a great piece of festive flair for your home. If you like garlands of wreaths then this would be an ideal place to hang them from.
Festive Table Runner
Now this really is an ingenious, unique idea. Many people like to have a runner for their dining room table normally made of cloth but how about using your old shutters as your centrepiece. You can spray paint the old shutter and add as much glitter or fake snow as you like. With the added benefit of the old shutter protecting your table from all those hot Christmas pots and pans this really is a fabulous idea that will make you the envy of all your Christmas guests!