The simple answer is a resounding yes! Large expanses of glass are becoming ever more popular in modern homes and yet they do pose difficulties when coming to dress them. But window shutters are the perfect dressing for traditional, hinged French doors and sliding or concertina patio doors.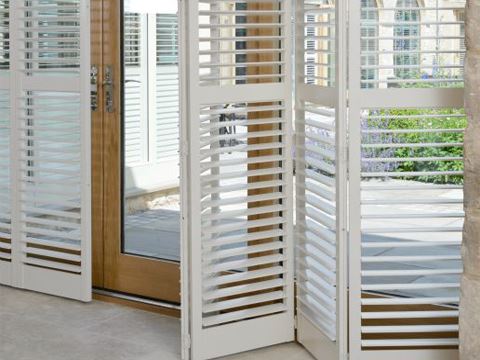 Plantation shutters are stylish, timeless, and elegant, and with the different shutter options available, they can complement your décor and home furnishings with ease. Here we explore why window shutters are a great match for your French or Patio doors.
Size doesn't matter
Plantation shutters are made to measure so they can be used to cover virtually any window or door regardless of shape or size. We offer a free home survey so we can discuss the full range of shutters that would be suitable for your French or patio doors. With our innovative iPad App we can even show you how your shutters would look once installed in your home.
Bright and airy
The wonderful thing about shutters is that once they have been installed they won't leave your room feeling darker or smaller. There isn't really another window dressing available that will give you as much flexibility as shutters. Keep them open to let as much light in as you would like, close them tight to keep your room dark, or for all the options in-between simply adjust your louvres. Louvres aren't just a way of letting light into your room, as they can be angled you can play around with the direction of the light which is a great way of creating natural mood lighting.
Natural barrier
If you have small children or pets, keeping your patio doors open in the summer to let air circulate through your home can be challenging. Window shutters however offer a perfect solution. Keeping your doors open and your shutters closed means that you will have a natural barrier to prevent any escapees from wondering outside but at the same time, by tilting the louvres you can allow as much light and air into your room.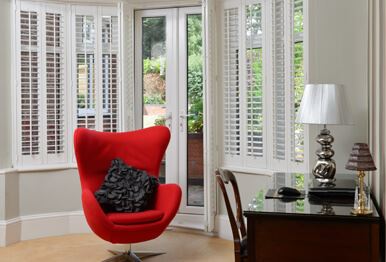 Shutter options
Full height shutters are a very popular choice for French or patio doors. This style of shutter can easily be fitted inside your window reveal so you can bi-fold your panels into the reveal, or they can be fitted outside the reveal, so they fold back flat against your wall without impinging on your room. Alternatively tracked shutters are another popular choice for people who plan to open and close their shutters on a daily basis. They are also a great solution for wider window spaces when framework is not practical to carry the weight of the shutter panels. Tracked shutters can also be installed with or without a bottom track.
Our shutters come in a range of materials and colours and are made with the same craftsmanship and attention to detail as that used in the production of fine furniture. If you would like to discuss your window shutter options please do get in touch today.