A quick glance down the paint aisle in Homebase or B&Q is bound to leave anyone confused. How do you even begin to pick a colour when there are so many to choose from?
It's easy to spend weeks or even months getting yourself all worked up about finding the right shade of magnolia which can put a real downer on your DIY efforts. If you're looking to spruce up your home this autumn, below are some great tips for choosing the perfect paint colour.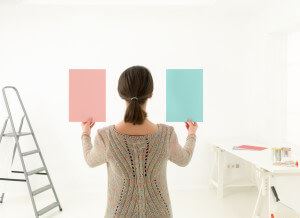 Have an idea of what you want
Having a huge selection of colours to choose from may seem great initially but it can also be a burden. It's easy to worry that you're making the wrong choice or spend way too much time trying to come to a decision so try to have an idea of what you want before you head to the shop.
Resist the temptation to come home with endless sample pots and instead limit yourself to colours that go with your existing décor or the vision you have for your renovations.
Don't test colours on the wall
The first thing you're bound to do when you get your sample pots home is to test a section on the wall you're planning to paint. This is a bad idea for a number of reasons:
Colours react with each other and to the existing colour of the wall so can appear different to what you were expecting
When it comes to painting the wall with your chosen colour, you then have to camouflage all the sample colours. Because different colours react to each other, this could result in slightly different coloured patches on your walls
If you paint a thick piece of card or a plank of wood instead, you can put the sample next to other colours in the room you want to combine them with (such as skirting boards, window shutters, sofa fabrics and neighbouring rooms)
Test wisely
Colours often look different depending on the amount of paint used, the light in the room and how well they work next to other colours in the room. It's therefore wise to spend a bit of time ensuring you test your samples properly (which is another reason why coming home with dozens of tester pots isn't a good idea).
Lining paper is great for this purpose – simply paint a fairly large area with your chosen colour and then when it's dry you can hang them up in different places around the room to check the effect. Don't make the mistake of assuming that just because you like the way a colour looks on a small sample card that you will like it splashed across your entire lounge.
Create your own colour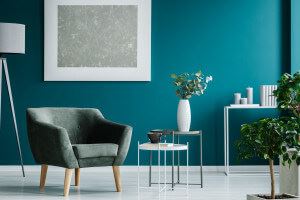 You've found the colour you want but you just can't seem to find the right shade. Thanks to Valspar, (www.valsparpaint.co.uk) you no longer have to compromise when it comes to this because you can create absolutely any colour you like. Their state-of-the art paint colour matching technology ensures that you will be able to find the perfect match for your home.
If you're new to decorating, Dulux has some helpful advice about how to decorate, find out more by visiting this link: https://www.dulux.co.uk/en/articles/going-solo-how-decorate-right-order.