Britain used to be described as "a nation of animal lovers" which I like to think we still are. Yet for one night per year, we seem to forget that passion for purrs in favour of saying oohs and arrhs in some cold, drizzly park or field. Actually that is no longer true, rather like many seasonal events, "Fireworks Night" seems to go on and on.  Last year there were at least 2 weeks' worth of firework events, not including the homegrown variety.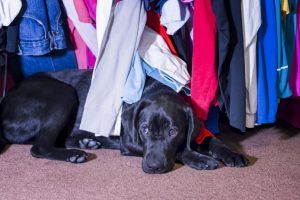 According to the Blue Cross, – https://www.bluecross.org.uk/ – "animal hospitals across the country see a marked rise in pets requiring medication during the firework season". In fact, many animals become so frantic that they actually run away from home and are brought to rescue centres up and down the land.
Dogs, in particular, have very acute hearing, so the excessively loud bangs and whistles can cause a great deal of distress. Being a rather soppy bunch, who are always keen to help our 4 legged friends, the team at Purely Shutters has put together this quick guide to help reduce the possible effects that Fireworks Season may have on your furry friends.
Medication and Alternative Remedies
There are plenty of "animal calming" plug-in diffusers on the market like Adaptil for dogs and Feliway for cats, which you can pick up for about £15 online at Amazon and any pet retail shop. There are also a wide variety of potions, lotions and room sprays which are supposed to help too. As with all these things, it is best to take advice from your vet. Animals are as individual as humans.
If you feel that your pet genuinely needs a sedative, then this is definitely vet territory. Make sure you follow the instructions on the packet; you don't want to overdose your beloved family friend.
Dogs and Cats:
Firstly be prepared. Make sure you have given your dog a nice long walk as you don't want them relieving their bladder on your carpets. For cats, make sure you have a clean litter tray handy.
Keep your pets inside. Close all windows, doors and cat flaps (you don't want them running into the street in a panic). Just to be on the safe side, it is a good idea to check that your pets are wearing collars with name tags or ID on them just in case they do find a way out.
Close your shutters, blinds and curtains. This will keep the effect of the flashing and banging to a minimum.
Some animals may want to hide while others may want to sit on your lap for reassurance. Whichever they prefer is fine.
Naturally it is better to stay indoors with your frightened friend, however, if you have gone out to a Firework event and your animal has had an accident, please don't be cross with them. They will be very aware of what has happened and shouting at a distressed animal does not help.
Show them love and respect, try to reassure them but do not force your affection on them if they decide that they would rather hide.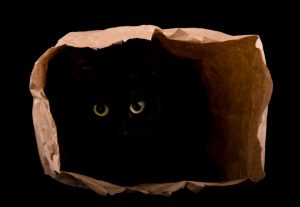 Small Caged Animals (rabbits, hamsters or birds)
These animals frighten very easily so if possible bring their hutches, cages and pens inside for the duration. A darkened garden shed is better than being left out in the open. In the wild they would hide somewhere dark after all. You could even cover their hutch with heavy blankets to help muffle the noise out.
The UK has very strict laws about who may buy fireworks and when. In addition there is also strict guidelines as to the time of day that they may be released. However, alas, not everyone adheres to these. Check www.gov.uk/fireworks-the-law for the latest guidelines.
Unfortunately, not everyone is kind and considerate, so we hope that our tips and advice will help you keep your furry friends feeling a little less anxious.