For some people working from home has been something they have adapted to over the past few years as employers have become more flexible with where their employees work. For some however, recent global events have meant a large majority of the population who have not previously worked from home have suddenly had to turn their home environment into a conducive space for office working.
If you are struggling to work from home productively, here are a few home office ideas.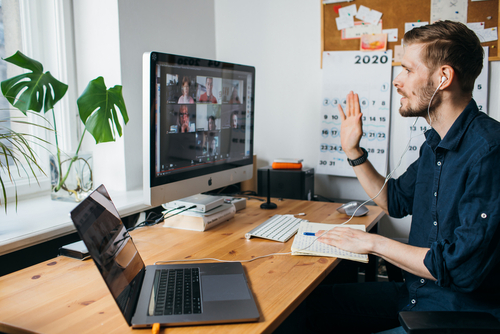 Create a dedicated space
If you're lucky to have a spare room it may be easy for you to turn this room into your home office. Depending on whether you think you'll be working from home after the pandemic will probably dictate how permanent you make any changes. Even for short term solutions however, it is vital that you turn the space into a proper working environment. Having thoughtful home office design is the best way to ensure your space is both stylish and practical!
If you don't have a spare room why not look around your home and see if you can make use of an area that is currently underutilised. Maybe the top of your stairs on the landing, or even under the stairs. Having a quiet, private area will let you concentrate without constant disruptions.
Light
We all love natural light. It makes us feel healthier and is good for our overall well-being. However, bright sunlight shining into a room and onto computer screens can cause visibility issues! Window shutters are a great way of controlling the amount of light you filter into a room as you can use the louvres to point direct sunlight away from your screen. No more hiding behind curtains on bright sunny days! Shutters are also a great way to give you privacy from the outside world. If you get easily distracted café shutters or tier-on-tier shutters lets you close the bottom half of your shutters to keep temptation at bay, whilst the top half of your window can remain open to let light filter into your room.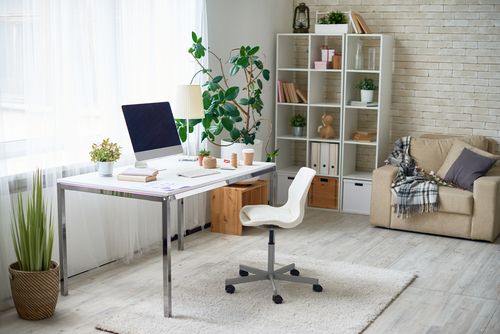 Furnishing
When setting your home office up you may need to invest in a proper desk or table. If you'd rather not buy a desk that will have little use afterwards there are many stylish tables you can buy which can be used as an occasional table afterwards. Investing in an office chair will ensure you don't create any health issues for yourself. If you don't have an office chair it may be worth asking your employer if you can use your chair in the office as a temporary solution. Plan your space according to the type of equipment you use to ensure everything is easily accessible.
Storage
If you are tight for space make sure you utilise the area as much as possible. If you have blank walls above your desk you could consider adding a couple of shelves to store files or equipment. And don't forget the space under your desk, a great place to store a couple of containers or drawers which can hold folders, notepads and stationery items.
Select The Shutters For Your Home
If you would like to explore our shutter range further and get office window shutters, why not get in touch today.