Living in a pandemic has shown many of us how important it is to get outdoors. Bringing nature into our lives can really benefit both out mental and physical wellbeing, helping to improve our mood as well as helping to reduce stress and anxiety levels.
Regardless of whether you have a small patio or large patio area you may be wondering how to make your outdoor space more inviting. Here at Purely Shutters we know that by making simple changes or adding shutters to your house can really transform your rooms, and it's no different with your outside space. By making a few easy alterations you'll have a space outside that's both welcoming and relaxing.
If you're not sure where to start, here's a few ideas to kick start your patio refurbishment project.
Repair and clean
You may need to start with some remedial work if you haven't used your patio much. If there are weeds growing between the flagstones, remove them taking care to get as much of the root system out as possible. Once removed there are some great home recipes for weed killers that you may want to try instead of opting for harmful chemical weed killers. Visit this website for more details: https://www.thegardenglove.com/how-to-make-safe-homemade-weed-killer/. To remove any old moss or dirt, give your patio a once over with a pressure washer.
Assess you space
Once you have your patio clean and cleared of any debris, it's time to plan your space and work out exactly what you'd like to achieve. If you like dining outside then make sure you plan enough space for a table and chairs. If you have a quiet corner, maybe a hammock would be a lovely way to relax on a summer's afternoon. With indoor space being limited for many families you could even plan a small outside work area if working outside is an option for you. No matter how you plan to use the space, make sure you work out your dimensions before buying any furniture.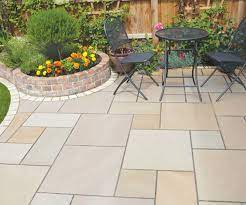 Colour, colour and colour!
No matter how small your space is there is always room to add colour and it doesn't have to be just through traditional bedding plants. If you have a wall or fence why not brighten up your space by painting it a lovely bright colour that matches your furniture. Incorporate accessories, like cushions and bunting in statement colours that will complement any colour theme you have. Of course, plant pots, tubs and baskets are a great way to add seasonal colour but try and use perennials as well that will give you colour year after year.
Lighting
To really make your outdoor space inviting in the evenings, why not add layers of lighting. Layered lighting is a traditional method of indoor lighting and there's no reason why you can't apply this to your outside space. The first stage of your lighting is called ambient lighting. This lighting will provide enough light for comfort. In an outdoor environment this could be soft light such as pillared accent lights around your patio area. The next layer is task lighting. This is lighting for specific activities, such as security lights that come on for pathways or driveways, or maybe if you like to read outside at night string lights could be added to brighten an area for reading. Accent lighting is the final layer used to highlight specific features, such as a tree, ornament, fountain, or pool. But do remember less is more when it comes to accent lighting and used correctly, it really can be very effective.
To find out more about your shutters options, you can book a free home survey today.