Our windows may feature in our cleaning routine on a regular basis but for many of us, we more often than not neglect the frames.
While they may be easy to miss, (especially if you have installed our window shutters which keep them hidden), keeping your uPVC window frames clean is important if you want to prevent damage from occurring and ensure that they stay looking great for as long as possible.
How to clean uPVC window frames

The good news is that uPVC windows are incredibly low-maintenance. They only need cleaning about four times a year but do ensure that you do this because dirt, dust and grime will build up over time. The longer you leave it in between cleans, the more difficult the job will be when you eventually do it.
To begin, open your window as far as you can and remove any loose dirt by vacuuming in every alcove (including the hinge or opening mechanism). If your vacuum cleaner has a soft nozzle, make sure you use this to minimise the risk of scratching your frames.
Using a soft cloth or sponge and a bucket of warm soapy water, wipe down the window frame. It's important to avoid using scouring pads or cream cleaners because they can scratch the uPVC and remove its glossy finish.
Washing up liquid is great for cleaning window frames but please check that whatever you're using doesn't contain dyes which can taint white frames or abrasive chemicals which may lead to permanent damage.
You can remove any excess water and dry your frames using a clean, non-abrasive cloth such as a tea towel, kitchen roll or an old t-shirt.
If you have plantation shutters or uPVC window shutters, don't forget to give them a wipe-down every once in a while to keep them looking great as well.
What if my window frames are old or very dirty?
Whether your uPVC frames are getting on a bit or they've lost their shine due to a build-up of dirt, with a little bit of elbow grease you can still get them looking as good as new.
The Lazy Susan Furniture website has a great non-chemical solution which will help remove even the toughest of stains: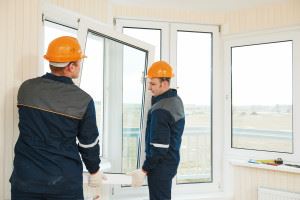 Mix one cup of vinegar with four cups of hot water and pour the mixture into a spray bottle. Spray the solution onto your window frames and leave it to stand for about 10 minutes. Then simply use a clean, dry, non-abrasive cloth to wipe down and remove any excess liquid.
Things to avoid when cleaning uPVC window frames
In order to avoid causing irreplaceable damage to your frames, it's important to only use products and methods which are suitable for the task.
When cleaning your frames, try to avoid the following mistakes:
Applying too much pressure when cleaning
Bleach – although this is usually a very effective cleaning product, it's way too harsh for your window frames
Cif-type cream cleaners – even these are too abrasive for uPVC
Methylated spirits
WD40
White spirits
Wire or iron wool or scouring pads – these are almost guaranteed to scratch your window frames
Of course, uPVC windows look beautiful accompanied by chic uPVC window shutters, creating a fresh feel for interiors, why not get a quick quote?