The publication of a government housing white paper last year revealed that Britain's new-build homes are the smallest in Europe. The report prompted claims that families are living in properties so cramped, there isn't enough space for them to live comfortably. Utilising a small space to create a functional, comfortable feeling room is a big task, so the question on everyone's lips is 'how can you make a small room look bigger?'
Paint the ceiling
Few of us pay much attention to the ceiling but did you know that anything that draws the eye upwards will actually make a room appear bigger? Try painting or putting wallpaper on the ceiling to make it a bit more of a feature so it's one of the first things people notice when they walk into the room. Another great tip is to hang shelves near the ceiling as this too will help to divert people's gaze upwards.
Pull furniture away from the wall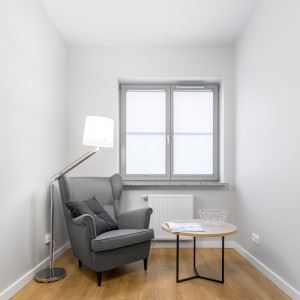 When decorating a small room, it seems logical to push everything as close to the wall as possible so you can make the most of the floor space you have. Contrary to popular belief however, pushing furniture up against the wall makes everything look and feel cramped. Instead, try to leave a few inches between the wall and bigger items such as tables and sofas. This will help to make the space look more open and create the illusion of space.
Choose furniture that fills the room
When decorating a small room, large furniture is surely a big no-no? Again, this would seem like a common-sense approach but filling your room with lots of small pieces actually makes the place seem more cluttered. Choose big, statement pieces such as that huge corner sofa you've always wanted because the less clutter there is, the bigger a room feels. Another great sofa tip is to choose one where the legs are exposed. Being raised off the ground once again helps to create the feeling of space which can help to make the room look bigger.
Sabrina Soto from the American department store giant, Target also advises that anyone decorating a small room should follow the cantaloupe rule:
"Decorative accents smaller than a cantaloupe crowd a room. Instead, go for fewer decorations that are bigger."
Window shutters
If you're trying to make your home look bigger, a great way to create the illusion of space is with window shutters. Because this type of window dressing fits into the window recess, there's no protrusion into the room. Curtains on the other hand are often fitted on the outside of the window which sticks out in the room and takes up more space.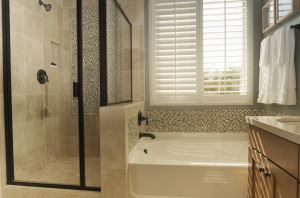 Shutters work particularly well with bay windows because they're fitted onto the actual windows. When you have curtains covering bay windows, you lose the whole area once they've been closed.
With a range of stunning styles available, some beautiful made to measure shutters are at the forefront for small room ideas.
To expand on the feel of your home, get started with a free home survey to explore your shutter options.