With the unusually warm weather we've experienced so far this summer in the UK, our homes can quickly become uncomfortably hot. Keeping cool during these hot spells is a tricky business so we thought we'd share some ideas with you to try and help you stay cool, especially at night!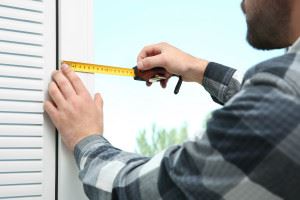 Doors and windows are the main area to focus on as they can account for a lot of the heat lost and gained in a property, learning how to effectively manage them could save you money and sleepless nights!
Check If Your Home Has Been Insulated
The first thing to be aware of is to know whether your home has been insulated. If your property has, keep all doors and windows closed to prevent the heat coming in. As the temperatures drop throughout the early evening, open them up so that the cooler air can circulate throughout your property. However, if you don't have insulation, using this tactic will have the opposite effect and will quickly make the inside of your home seem like a greenhouse!
The Energy Saving Trust website has some helpful information if you are unsure if your property is insulated or not: https://www.energysavingtrust.org.uk/home-insulation/cavity-wall.
Air conditioning units in domestic properties in the UK are a rarity, after all the great British summer doesn't normally mean an average temperature of above 24 °C week after week! They are very effective but as you may only need one for a few weeks each year, and maybe not even every year, this could be quite a pricey solution!
Room Fans Help Circulate Air Throughout Your Home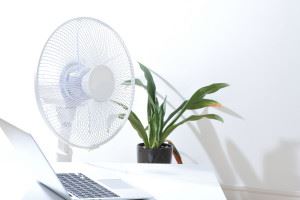 Room fans however can be a good alternative as they help circulate air throughout your home. One downside of fans for some people though is that they can be noisy which can be very distracting when you're trying to sleep. If you think the noise could be a problem look for quieter models and if you have pets or children, the bladeless designs could be a safer option. The Quiet Home Lab website has compared some of the quietest fans on the market which you may find of interest: https://www.quiethomelab.com/ten-best-quiet-fans/.
If you already have window shutters you will already know how beneficial they are at keeping your home cool throughout the summer months. It has been suggested that in some areas they can reduce heat gain by 45%!
One of the huge benefits of plantation shutters is that you can adjust the louvres to allow ventilation and light control whilst keeping the sun rays out and therefore reducing heat gain. Additionally, shutters are great for privacy and security. When the louvres are closed no-one can see in your property which make them great burglar deterrents, allowing you to keep windows open to let any breeze into your home.
Us Brits are certainly not used to the dizzying temperatures we have enjoyed so far this year, but it's safe to say that it can't and won't last forever. Soon enough we will be back in wellies and winter coats, so let's get out and enjoy the sunshine while we can.