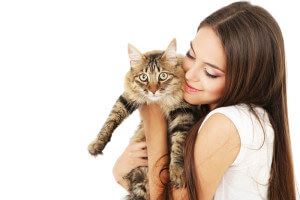 How can you help keep your furry family members safe in your home? If you are a new cat owner or thinking about introducing a new addition to your family, our top tips below will help you provide the perfect pet-friendly home with cat-proof windows and all other pet safety measures you should be taking.
Windows
Windows are a great place for cats to sit and watch the world going by especially if they are in the sun, but any loose cords hanging from curtains or blinds can cause even the best-behaved pets to engage in dangerous play, potentially hurting themselves or damaging your window dressings. Window Shutters are a great alternative to traditional window dressings, without any hanging cords making them the perfect solution for a pet-friendly home and cat-proof windows.
For Rooms on Higher Floors
Having pets fall out of the window is a very possible risk, but with a set of quality plantation shutters, you can leave the windows open during warmer weather while creating a barrier between your feline friend and a large drop! With café style shutters or tier-on-tier shutters, you can protect your pets by covering the bottom half of the window and leaving the top half open. This also creates optimal privacy and light regulation for you home.
Plants
Many owners are unfortunately unaware of how dangerous certain plants and flowers can be to their cat. Lilies in particular are extremely lethal and should be completely avoided in the garden and the home. Cats have even been poisoned by just brushing up against certain plants and licking the pollen from their fur. You can find a detailed list of plants which are dangerous to cats on the International Cats Care website.
Household Appliances
Cats are notoriously curious creatures and will naturally investigate any small spaces to look for a place to hide or sleep in peace. Block off any dangerous areas where your cat could become trapped and make sure any appliances with doors such as washing machines and tumble dryers are kept closed at all times. Toilet lids should also be kept down to prevent cats drinking from the bowl and falling in.
Poisonous Substances
Cats will drink water from a variety of sources which means they are susceptible to poisoning through spillage and leaks. Your cat can be poisoned through grooming so anything which may come into contact with their fur or paws can be potentially dangerous. Antifreeze is one of the most harmful substances for cats so make sure all bottles are kept safely out of harms way. Other household substances such as disinfectants, pest control substances and even certain food types such as onions and chocolate should all be kept out of your cats reach. For further information on poisonous substances visit the Cats Protection website.
To take steps into pet-proofing your home and cat-proofing your windows, invest in some beautiful plantation shutters for stylish, safer windows. Book in a free home survey to be on your way to cat-friendly windows.