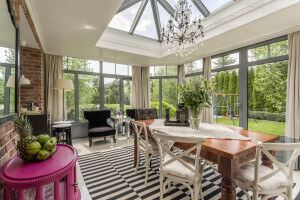 Conservatories make a fantastic addition to any home. They increase your living space, provide the perfect space to entertain guests and best of all, add value to your property.
Something that a lot of people with conservatories struggle with, however, is how to decorate a conservatory to make it as cosy and welcoming as the rest of their home. If this is something that's a constant battle for you, below are some great tips which should help you out.
Decorate your conservatory
Conservatory decoration is often overlooked when it comes to home décor. People tend to put a sofa or a table and chairs in there and then leave the rest bare. This often leaves the area looking unfinished and uninviting. Some great cosy conservatory decor ideas include:
Lay down a carpet or put down a rug.
Think about what you want the area to be used for and furnish it accordingly. If you want to use it as a lounge for example, add comfortable sofas, a coffee table, a television, a bookcase and anything else you would normally put in a living area.
Don't forget about the finishing touches – flowers, cushions and ornaments can make a huge difference. Flowers are a great way of adding life to any room. Exotic plants in particular can help to transform the area and add a unique touch. Opt for plants with a structural shape and brighten up any corners with tall plants which reach the ceiling.
Open it up to the rest of the house
If possible, try to open your conservatory up to the rest of the house as much as possible. Confining your space is not a surefire way to create a warmer and more enticing room, so why not bring the cosiness to your conservatory, by opening it to the rest of your home.  If there are doors separating it from the property for example, see if you can get them removed. This will make the area seem much bigger and like it's naturally part of the house rather than something that was an extra addition.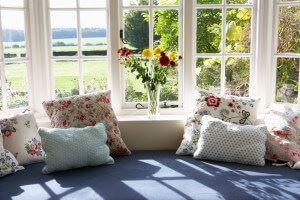 Think about your window dressings
Window dressings are something else which is often forgotten about in conservatories. If you want to create the ultimate homely feel for this area, opt for window shutters. This type of window dressing offers a number of benefits including:
They look great and add style and class to any room in the home.
They protect you and your furniture from the sun's powerful rays.
They help to maintain a comfortable temperature in your conservatory.
They create a cosy conservatory atmosphere on cold winter nights.
They allow you to sit and relax without worrying about the neighbours overlooking you.
They provide you with added security because they act as an extra barrier between the window, even if it gets smashed.
Quality Hardwood materials.
Add plenty of light
If you want your conservatory to be an area that people are drawn to, add plenty of natural light. Not only does this help to make your conservatory feel cosier, it means that you can still use it even once the sun has gone down.
Make the most of any walls
If your conservatory has any wall space, try to make the most of it. You could paint a feature wall, add conservatory wallpaper or put up pictures just like you would in any other room in the house.
Browse our conservatory shutters page to see how stunning a window treatment they are!