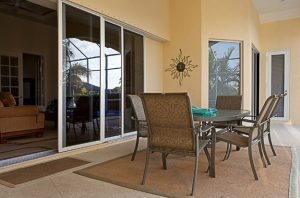 Many home owners are adding stunning extensions to the back of their properties, usually to accommodate a kitchen, living and family space in one. There has been a surge in lantern roof or skylights to add additional light but to further enhance the new way of family living, the range of fantastic doors to lead onto their gardens on patios has exploded.
For those who are looking at renovating and need help choosing between the different type of doors or windows for their home, here is the low-down.
A bi-folding door, sliding doors or French patio doors?
Firstly, consider the British Climate. Most of the year your doors will remain closed and you will be looking out into your garden through your closed windows or doors. Secondly consider which way your house faces. If it faces north, you will want to make sure you have the maximum amount of glass to let in the light during the winter months. Some bi-folding doors, due to their frames, give you less glass area when closed than patio doors. Many sliding patio doors enable you to have a much larger glass area than bi-folding doors, as they do not have as many framed areas.
Bi-Fold Doors
Designed to open up your whole living space to the garden, the main advantage to bi-folding doors is that when folded back, they will open up your entire wall. These have become highly desirable in recent years and the bi-folding door market has exploded with a huge range of products now available. This will truly open up your living space bringing your outside space into your home seamlessly.
When it comes to bi-folding doors we recommend that you are not governed by the cheapest product. The old adage of "you get what you pay for" is certainly the case. Remember to consider how many back doors to have that lead to your garden, patio, or balcony. If your bi-folding doors are your only access, a reputable installer will advise you to think about having an "access leaf" on one side of your bi-folding doors, to act as a back door, without having to fold all the rest of the doors back. This may not be possible if you have an "all glass" bi-folding door system.
French-style Patio doors
If you live in an older, period property, you may wish to consider French doors. Basically these are pairs of double doors, both of which can open right out and hooked back into place with door hooks. As they are pairs of doors, the openings vary in size from the rather narrow to the extremely wide. The benefits are that they will be in keeping with the style of a character property; they can be used as independent doors; and they open up to give the indoor/outdoor feeling.
Sliding Doors
They may sound dated, however, if you live in a small apartment, with a small balcony, they could provide the ideal balance between letting in the light and the functionality of garden, balcony or patio access.
For more advice and door ideas visit the Everest website – https://www.everest.co.uk/doors/
Window dressings for large openings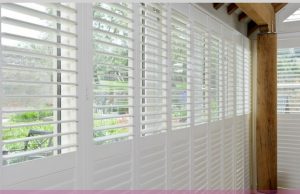 The main issue with larger openings is window dressings. It completely defeats the object if you have large patio or bi-folding doors then end up having to cover a significant chunk with curtain fabric. Most blinds are simply too heavy, whereas tracked shutters offer the ideal solution.
Tracked plantation shutters allows you to permit as much light into the room as you wish, while offering you an elegant, contemporary look and feel to your kitchen.  Added to which they are much more hygienic than fabric curtains or blind. If you wish to know more about our tracked or solid shutters, please do call one of our local surveyors who would be delighted to show you our range.
If you're new to home renovating and are not sure where to start visit The Homebuilding & Renovating website which has some great ideas, just follow the link to find out more: https://www.homebuilding.co.uk/open-plan-living/