If you are considering installing window shutters in your home, you'll want to be certain that the type of wood you choose perfectly matches your home, your style of living and your budget. Here at Purely Shutters we offer a range of shutter materials and styles to ensure we can match your needs, regardless of which room you would like your shutters installed in and how you would like to use your shutters.
Our three different ranges of shutters are Clifton Hardwood Shutters, Lansdown Basswood Shutters and Salcombe Waterproof Shutters. All three types lend themselves to certain rooms and window types which is why we are confident that no matter where you would like to install wooden shutters in your home, we will have the perfect shutter type to match your needs.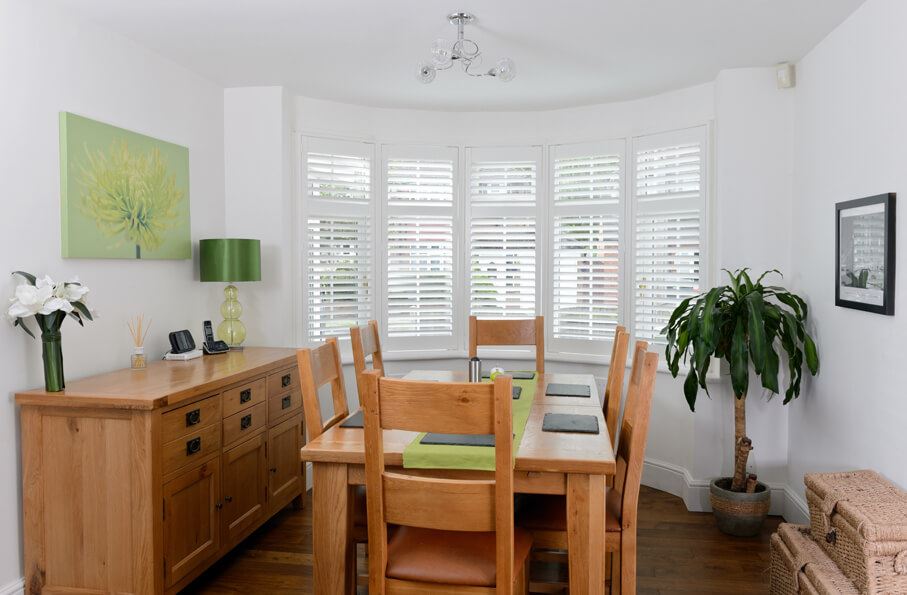 Clifton Hardwood Shutters
New to our range, the Clifton Hardwood Shutter is made from Paulowina wood. Paulowina wood is one of the fastest growing trees in the world and can be harvested every 7-10 years. It is a lightweight wood but has an incredible strength to weight ratio which is why it is an ideal wood for window shutters. It is light coloured, warp resistant and has a beautiful fine-grain texture. It is the ideal material to choose if you are considering full height shutters, café style shutters, tier on tier shutters, tracked shutters and solid shutters.
Lansdown Basswood Shutters
Our Lansdown Shutter range is made from basswood, a strong, versatile wood that does not warp. It has a straight fine grain with an even texture which offers a perfect finish. Our Lansdown Shutters are an elegant and lightweight choice for your window shutters. They are the ideal choice for full height shutters, café style shutters, tier on tier shutters, tracked and angled shutters. You can also choose different size slats, hinge colours and tilt rods.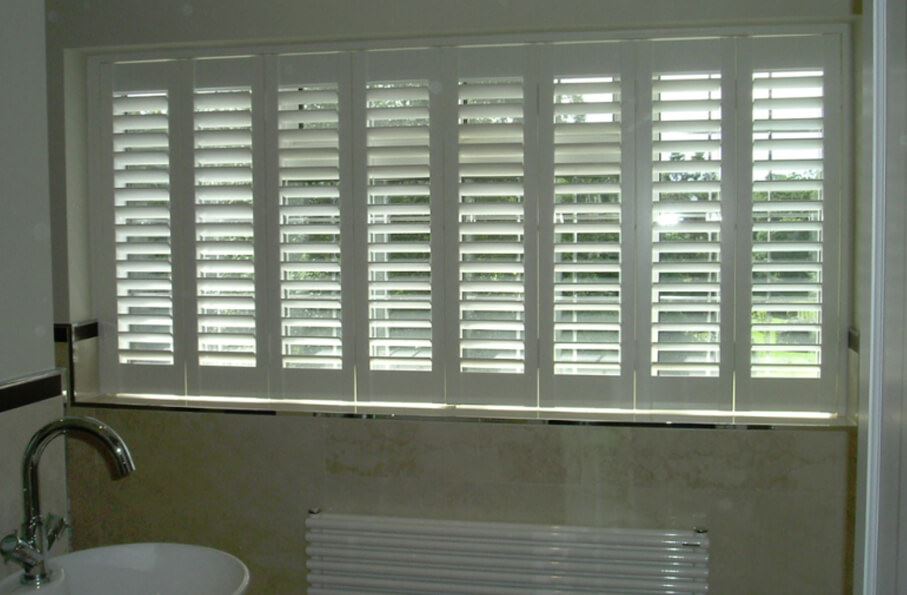 Salcombe Waterproof Shutters
For those rooms that are humid or where water could come into direct contact with your shutter, our Waterproof Polyvinyl range is the perfect solution. They are suitable for wet rooms, kitchens, bathrooms, and even for windows where condensation maybe an issue. Even though they are incredibly practical, there is no compromise on style or elegance. They are made using an ABS (Acrylonitrile Butadiene Styrene) plastic resin with a co-polymer coating, to ensure they are fully waterproof. They are available in full height, café style, tier on tier, tracked and angled shutters. All of our shutters come in a range of colours and can be colour matched to a colour of your choice. You can find out more about our range of shutters and how they can add a timeless elegance to your home.
See more of our stunning shutters, or if you know what you want then you can get a quick quote, here!