One of the many benefits of window shutters is that they're available in so many different shapes and sizes that you're guaranteed to find the perfect match for your home. Solid, plantation, full height, café style and tier on tier shutters are just a few of the varieties available but this week we're discussing the advantages of waterproof window shutters.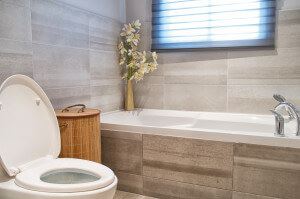 Ideal Bathroom Shutters
The main advantage of these types of shutters is that they are of course waterproof. This makes them ideal for use in bathrooms, wet rooms and any other area which has a high moisture content.
Unlike other window dressings, waterproof shutters will retain their beauty and longevity despite frequent exposure to water and dampness. This can help to solve the common issue of how to make the windows in your bathroom look great.
Superior strength
Because they're made using an ABS (Acrylonitrile Butadiene Styrene) plastic resin, waterproof shutters are incredibly tough and durable. Even when exposed to harsh environments, moisture or humidity, you don't have to worry about them warping, chipping or getting dented.
No mould
Anything which is exposed to moisture is at risk of developing mould and this is something you may have noticed on curtains or blinds in your bathroom. Waterproof bathroom shutters are designed to cope with these situations and you can also very easily wipe any moisture off them which means that you don't have to worry about mould becoming an issue.
They look great
When you need something for practical reasons, often you have to compromise on style. With waterproof shutters however, nothing could be further from the truth. Not only do they look fantastic, you can also personalise them to suit the shape of your window, the style you prefer and the colour which compliments the décor of your home.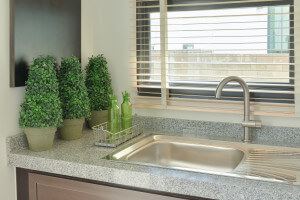 Well suited to kitchens
Bathrooms aren't the only rooms in the house which are exposed to high levels of moisture and humidity. Every time you turn the oven on, boil the kettle or cook on the hob, a lot of moisture is produced in the kitchen.
Once again, waterproof shutters can easily withstand this environment and you don't have to worry about mould forming either. As well as this however, they also offer practical solutions.
A lot of people like to open the window when they're cooking so that smells don't linger, because it may become too hot in the kitchen or because they want to let out some of the steam which is produced. Shutters allow you to get some fresh air in without compromising your privacy or security.
Thanks to residue which can splatter all over the place when we're cooking, in time, an accumulation of dirt is common in kitchens. While it's easy to wipe down surfaces on a regular basis, chances are that you don't want to take down your curtains or blinds to give them a good clean every week. Shutters offer a much more practical solution because they can be cleaned very easily with a cloth and you don't even have to take them down to do so.
For a durable window dressing for your bathroom, find out more by calling 0800 038 5311, or booking a free home survey.