When it comes to choosing cafe style shutters bay windows, you really are spoilt for choice. From full height, tier on tier and café shutters to plantation, solid, round and elongated shutters, there isn't a single shape or style that doesn't look fantastic in any home.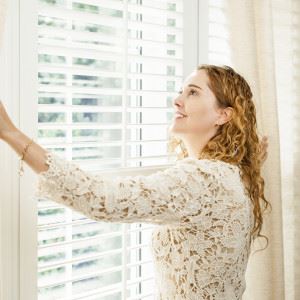 While we could happily sing the praises of all the different options available, this week we're focusing on café style shutters. From what they are, to the benefits they offer, below are some great reasons to choose café style window shutters.
What are café style shutters?
Café shutters don't cover the entire window. Instead, they simply sit on the bottom half which is ideal for those who would like some additional privacy but aren't so keen on blocking out the entire window.
This type of shutter works particularly well in communal rooms such as kitchens, living rooms, the lounge or study – especially if they overlook the street or neighbouring properties. Because light filters through the top half of the window, they're not so common in bedrooms. This problem is easily rectified however if you have curtains over your shutters.
What are the benefits of café style shutters?
They enhance bay windows
Shutter for bay windows can add extra style to the windows in your house. Café style shutters enable you to enjoy the best of both worlds by giving you the privacy you need on the bottom while allowing you to see your windows in all their glory on the top.
You don't compromise on light
Because café style shutters only cover the bottom half of your window, they still let in plenty of daylight. Aside from saving money on your energy bills, scientists have discovered that exposing ourselves to as much natural light as possible can have a number of benefits to our health including:
• It boosts Vitamin D
• Increases productivity
• It's better for our vision
• Improves sleep quality and our ability to fall asleep faster
• It puts us in a better mood
Find out more by following this link: https://sustainability.ncsu.edu/blog/changeyourstate/benefits-of-natural-light/
You don't lose your view
One of the main concerns people have when they're thinking about installing shutters is that they will lose their view of the outside world. Whether you live in the beautiful countryside or you just like to be able to catch a glimpse of the great outdoors, café style shutters are the perfect solution because you can still see out of your window.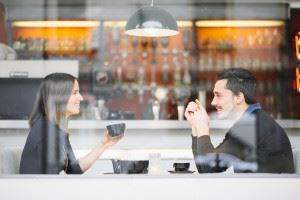 They're easy to maintain
Window shutters are incredibly easy to maintain anyway but café style shutters are even more so. Simply wipe them down with a damp cloth or duster to remove any dust and you can add a mild cleaning solution if you need to remove any marks. Because this style only goes halfway up the window, you don't have to worry about trying to reach up high to clean the top shutters. When cleaning your window shutters, it's wise to avoid soaking them with water because they're made from wood which can become damaged when exposed to large quantities of water.
Convinced about café style? Book a free visit from our home surveyors to learn more!