Once upon a time, not so long ago I had a Kindle. Not an HD, Fire or Paper White, just a Kindle. It was brilliant. I could carry my hundreds of books with me and read them anywhere from the park, to the train, to my sofa.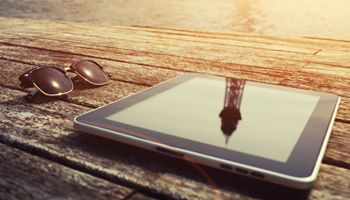 As time moved on, I upgraded my Kindle for a tablet and gave the Kindle to my dear mum, who fell in love with it as I had done a few years earlier. Unfortunately I now can't ask for it back!
You see, as much as I love my iPad, it has one major limitation – sunlight! In our world of 24/7 connectivity, holidays are more precious than ever. Although we avoid all contact with the office, we feel guilty if we don't check in at least once a day. Therefore, the one time when I might be able to look at it to check emails, read a book and enjoy doing so without feeling rushed, is the one time I simply cannot read it, even with polarised sunglasses.
Displays Screens Reflects Direct Sunlight
Electronic cameras, mobile phones, laptops, and plenty of other fashionable transportable multimedia devices use an LCD (https://whatis.techtarget.com/definition/LCD-liquid-crystal-display) or TFT (Thin-Film Transistor) monitor screens. The problem is that the whole of the display screen is back-lit with white coloured light to every single pixel. These pixels are programmable so that they can block or filter out any unwanted colour in the spectrum to give you the image you want. When you put them into direct sunlight the pixels dull to compensate, while the screen actually reflects the sun's glare at you like a mirror.
There are no special filters that you can fix over your screen, so this leaves you and me with 3 options:
1. Buy a ridiculous looking sun hood. It is bulky and although it does work, it means that I am reading my iPad book under something which looks a bit like an ugly "designer" box.
2. Go into the shade or sit under an umbrella. To be honest, and here is where the cancer doctors will squeal, I like sitting in the sun. It makes me feel happy and look healthier. OK I don't turn myself into a lobster, I always wear sunscreen but I love the warmth on my face as it makes me feel alive. Energised somehow.
3. Go back to buying books or get another kindle. (I can't very well ask my old Mum for my old one back now can I?) Just use all the other IPAD features when I am indoors.
This is the same problem that people have when trying to watch their beautiful flat screen TVs if sunlight is streaming through the window. Of course, the ideal place for any TV to avoid glare issues is to place them with the light behind them, yet sometimes that is not possible.
Plantation Shutters For Summer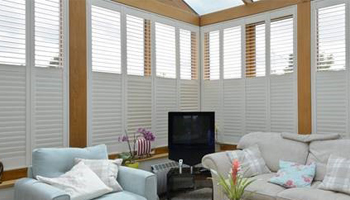 During the summer, many people, end up watching the Six O'clock News with the curtains drawn and the lights on! It is such a shame; however those who have plantation shutters they can feel justifiably smug.
It is obvious that the glory of a plantation shutter means that you let in as much or as little light as you want, affording you privacy too. However, if you want to watch your TV in the early evening, you can just close the louvers to filter out the section of light which have caused the problem, meaning that you do not have to hide in relative darkness. We also have a range of solid shutters which you may also like to consider.