From locking windows and doors when we go out to installing a burglar alarm, security lights and sometimes even CCTV, most of us will do whatever we can to protect or homes from intruders. This isn't surprising when you consider that homes with no security measures in place are five times more likely to be burgled than those with even the simplest systems. Read more here: https://www.police.uk/crime-prevention-advice/burglary/
Aside from the more traditional methods listed above, an increasing number of home owners are turning to window shutters as an added security measure. Not only do they make it much harder to gain access to the inside of a property, they also look fantastic and can even increase the value of your home.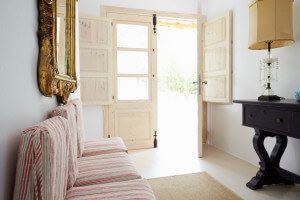 The security benefits of shutters
 When you opt for plantation shutters as your window dressing, you have a robust wood product protecting your window as opposed to a flimsy curtain or blinds. Naturally, this creates a strong barrier that won't give easily should someone try to break in. Full Height Shutters offer the top to bottom protection and cover when closed.
Most robbers are opportunists – they're more likely to swipe something if the opportunity happens to present itself. No burglar wants to get caught so when they're stealing something, they're only going to do it if they can do so quickly and easily. Trying to break through a shutter is not quick or easy and chances are they will be heard trying to break through the wood.
Plantation shutters therefore not only provide an extra barrier to your house, they're also a huge deterrent.
If somebody is risking jail time for breaking into a house, they're going to want to know that there's something worth stealing in there. If passers-by can easily catch a glimpse of your impressively large television, multiple mobile devices and expensive artwork, you are putting yourself at risk of becoming a target.
One of the greatest benefits of plantation shutters is that they allow you to let in natural light without allowing pedestrians to see into your home. Adjusting the slats strategically means that not only are people completely unaware of the contents of your home, they won't be able to determine whether or not someone is home. It's incredibly unlikely that anybody will attempt to break into a property unless they are absolutely certain that it's empty.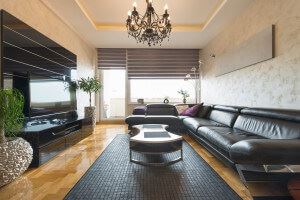 The great thing about shutters is that they can be used absolutely anywhere in the house. Most of them are made to measure so even if you have an unusually shaped window you can still have them installed and waterproof shutters mean that you can even ensure that your bathroom window is suitably protected.
Conservatories can be a cause of concern for many home owners because glass is of course incredibly easy to break into. Did you know however that you can even have shutters fitted in your conservatory as well?
Aside from improving the security of this area of your home, it provides a number of added benefits too. If your garden is overlooked, you will be able to relax in your conservatory without worrying that the neighbours can see in, you can adjust the slats in the summer so that the sun's rays aren't beating down on you and in winter, they provide some much-needed insulation and warmth.
Visit this site for some top tips on how to protect your home: https://www.familyhandyman.com/list/inexpensive-ways-to-theft-proof-your-home/