As much as it's a shock to the system, this recent cold snap has bought some wonderful frosty mornings, reminding us that Christmas is just around the corner. With the 1st December just 5 days away, many of us will be thinking about when to buy our Christmas trees and put up our decorations.
If you've never decorated your homes windows before why not give it a go this year. Below are some wonderful ideas to help you create the perfect Christmas window and remember to include your shutters. A simple Christmas wreath or garland of holly will soon get your plantation shutters looking festive!
Themed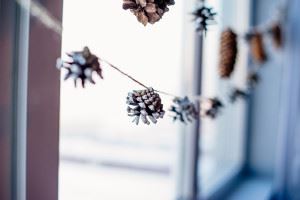 If you are planning a theme for your indoor decorations, you could extend this to the windows of your property as well. Maybe you've chosen a dominant colour or a theme such as rustic. Try hanging some matching coloured baubles across your window not only will they match your interior look they will also reflect the light and create a lovely effect in your room. If you are thinking about a more rustic theme, why not buy a small wooden basket and decorate with fir branches, fir cones and stars made from wood or old wire. Tie some red and white chequered ribbon or material to finish the look. Place the basket on your window ledge for everyone to admire.
Foraging
If you like hunting in hedgerows and bringing the outdoors inside, pick some wintery foliage and create a stunning bouquet for your windows. The countryside is abundant with fir trees, fir cones, holly bushes that may even be adorned with holly berries, and other winter berries. To add a festive feel, you can spray certain pieces in silver to really make your display stand out. Instead of a bouquet why not create a Christmas wreath to hang at your window. The Good House Keeping website has a great step by step guide on how to make one: https://www.goodhousekeeping.com/home/craft-ideas/a20707684/diy-foraged-wreath/
Lighting
There's nothing more inviting than twinkling lights at a window. From traditional strings of fairy lights to stars that cascade like a waterfall there's plenty to choose from. Battery-operated candles have become more common and their effectiveness has improved over the years. If you like burning traditional candles why not choose festive scented ones. Yankee Candle have some wonderful Christmas scents including Winter Wonderland and Glittering Star! Make sure you place candles in safe areas and never leave them unattended.
Traditional
If you'd like to display a traditional nativity scene in your window you can buy a set that will typically consist of a stable, baby Jesus in a manger, Mary, Joseph, shepherds, Wise Men, oxen, asses and of course the star over the top of the stable. Some sets also come with lights to create a stunning effect at night.
Simple but elegant
For those of you who would like to create a Christmassy look with as little fuss as possible, why not buy a can of artificial snow and some Christmas templates like snowmen, stars, snowflakes and reindeers. And if templates are too much why not just spray a simple greeting like Merry Christmas!
Create a cosy, rustic look for your home with some brand new quality wood shutters!