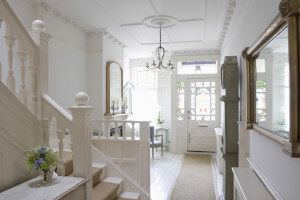 Keeping the house warm during the winter months is a constant battle for many and it's one that few manage to win if they're living in a property that hasn't been draught-proofed.
If you find yourself wrapped up in jumpers and blankets despite the fact that the heating is always on, this is more than likely because the warm air is escaping. Below are great ways to draught-proof your home and keep it nice and cosy.
Identify the source of your draft
Although we do need some ventilation in our homes to reduce condensation and damp, draughts let in too much cold air and waste a huge amount of energy so the first step is to identify the source.
The biggest culprits tend to be:
Windows
Doors (including keyholes and letter boxes)
The loft
Electrical fittings
Floorboards
Making sure your home is well insulated throughout will play a big part in helping keep your house warm. A lot of heat is lost through windows, through the panes, and draughty window edges.
Draughty windows
More often than not, windows are to blame for letting cold air into our homes. The good news is that there are a number of ways to rectify this situation.
If you don't already have double or secondary glazing, this is a worthwhile investment. It is expensive but you will save money in the long-run on your energy bills and it will make your home a lot more appealing to buyers when it comes to selling it on. So short of completely replacing your windows, how can you stop draughts from windows?
Are shutters draft proof?
If you don't want to pay for double glazing or you already have it but find there's still a chill in the air, then we would suggest well-fitted plantation shutters. Shutters that are customised to fit your windows will add coverage to the window seals that are causing the draught. Our made to measure shutters create a barrier between your windows and rooms, reducing the air escaping through your window, while also blocking the outside wind from creating a chill!
They are fantastic heat insulators, they give any property the wow factor and they can also help to keep your house cool in the summer. We have a range of styles to suit different interior designs, making shutters a winner when it comes to look and functionality!
Draft proofing doors
Doors are fairly cheap and easy to draught-proof yourself and doing so can make a huge difference to the temperature of your home. The main points to consider are:
Keyhole – it may be small but when it's freezing cold outside, even the smallest of gaps can let in a lot of cold air. Opt for a lock that has a metal disc covering the keyhole and this should be enough to rectify the problem.
Letterbox – use a letterbox flap or brush to keep out unwanted breezes and ensure that it's fitted properly. If your letterbox is too small for the area it allows warm air to escape.
Gaps around the door – there are a number of ways you can fill in gaps at the bottom and edges of your door. You can invest in a brush or hinged flap draught excluder or use fit foam, brush or wiper strips.
Floorboards
If you have any gaps or cracks in your floorboards, heat may be escaping this way. Skirting boards can also be another culprit as they often expand, contract and move slightly with everyday use. When dealing with floorboards and skirting boards, you should use a filler that can tolerate movement including:
Flexible fillers
Decorator's caulk
Mastic-type products
Considering draught-proofing your home ASAP? Invest in shutters to prevent heat loss and save money on energy bills! You can get a quick quote and get started on transforming your windows with beautiful shutters.