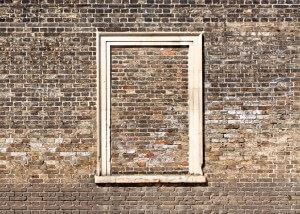 Many of our historical buildings show the legacy of the "Window Tax". You may have noticed that some of our old homes have bricked up or filled in windows. Some properties were built in such a fashion to balance the look of a building but for many their windows were filled in to avoid paying a tax that was introduced in 1696. The Parliament website has some interesting and historical facts if you fancy reading more on this subject.
In 1696 under the reign of William III a new act called "Act of Making Good the Deficiency of the Clipped Money" was introduced. The law-makers at the time thought it was only fair that those living in big houses paid more tax as they were deemed to be better off. For this reason this new act became known as the "tax on light and air" and although it is not recorded it is widely thought that the saying "Daylight robbery" originates from the introduction of this Act.
It was a banded tax, for instance, in the Georgian period. In 1747, properties with ten to fourteen windows paid a total of 4 shillings, and properties with over 20 windows homeowners paid 8 shillings. The tax was raised six times between 1747 and 1808. By then the lowest band started at six windows which was raised in 1825 to eight windows.
For many property owners the only way to avoid paying the tax was to brick up windows. The building of new properties during this period also reflected tax avoidance as they were built with fewer windows and historical records show that the production of glass from 1810 to 1851 remained the same despite the housing boom at the time.
The introduction of the tax had huge implications on the occupants of the buildings especially in urban areas. Without adequate lighting and ventilation, people were much more susceptible to diseases such as cholera, small pox and typhus. The window tax became more and more unpopular as the populations' health declined. The tax started to become fiercely opposed and finally in 1852 the tax was repealed.
History of Shutters
Thankfully we no longer have to pay this tax and so our windows are being built bigger and bolder than ever before. With the option of so many window dressings like plantation shutters, our windows can stand proud and beautiful.
But did you know that wooden window shutters predate glass windows? That's right, as back in Tudor times, people would use wooden shutters to board up their windows and protect their homes from robbers. Even once glass windows became available, most ordinary citizens couldn't afford them and stuck with shutters.
If you want to hear more about the origins of shutters, we have a comprehensive piece just like this one that explores the history of window shutters.
If you are thinking about adding shutters to your property we have many designs, shapes and sizes available. Our Solid Shutters are beautifully made traditional and elegant shutters that compliment all types of buildings and windows. The Waterproof Polyvinyl range is so high quality that you won't regret investing! Or, see our beautiful range of styles to find out what shutters are right for you!