There are many benefits to having shutters, aside how amazing they look, of course. They insulate, improve privacy and security, help with soundproofing, and they even add value to your home. But it doesn't stop there. Living room plantation shutters are incredibly low maintenance and cleaning them is simple, especially when compared with other window dressings. So, keep reading to find out how to keep plantation shutters clean with minimal effort.
How to Clean Hardwood Shutters
It might be that you've just bought some and are wondering how to keep your living room plantation shutters clean. Or perhaps you're still thinking about whether to purchase your own set. Either way, you'll be glad to hear that you can keep wooden shutters clean rather easily. The main thing to remember is that wood is a porous material: it absorbs moisture. As such, be sure that you're not using a lot of water or cleaning solutions when taking care of your new favourite fixture.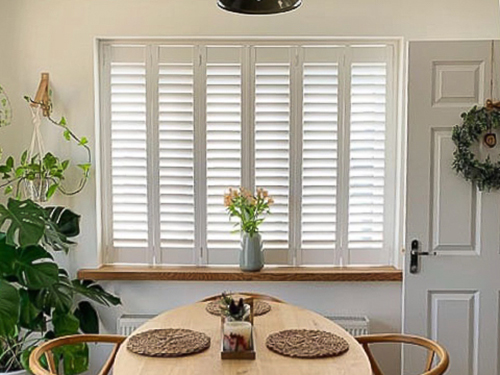 1) Run a duster or dry cloth over the shutters
Open the movable slats and give them a quick once over. Short on time? No problem. Close the slats and go over the whole panel. And don't forget the frames.
2) Clean the corners
Because they have moving parts, some dirt can build up in the corners and other such nooks. Every once in a while, remember to see to these spots with a soft toothbrush. All it takes is a few seconds.
3) Softly scrub any stains
If you see any stubborn stains, be sure to rub them with a damp cloth. Make sure the cloth isn't too damp and that you don't rub too hard. You'll always want to avoid using any cleaning products which may affect the paint. Once the stain is gone, rub the area with a dry cloth.
How to Keep Polyvinyl Shutters Clean
Because they are completely waterproof, you can keep polyvinyl shutters clean even easier than their wooden counterparts. Simply follow the same process as above, with the only difference being that you don't have to worry about drying them afterwards. However, it couldn't hurt.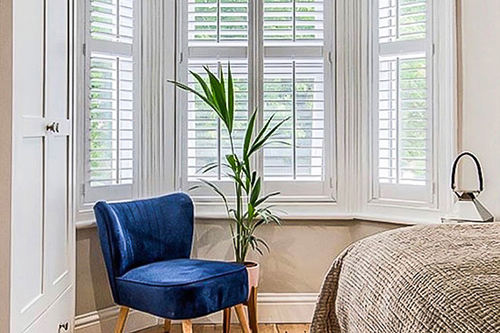 Are Shutters Easier to Clean Than Blinds?
Different types of blinds have different cleaning requirements, depending on their material. Common cleaning methods include dusting, hoovering, wiping with a damp cloth, or a combination of each of these. This may not sound like much work, but blinds are prolific dust collectors. As such, they require regular cleaning, as opposed to living room plantation shutters which only need a going over every so often.
If you'd like to learn more about how to keep your living room plantation shutters clean, then please get in touch. Send an email to hello@purelyshutters.co.uk today. Or maybe you're ready for your free, on-site survey. Request an appointment today to meet with one of our expert Shutter Specialists.