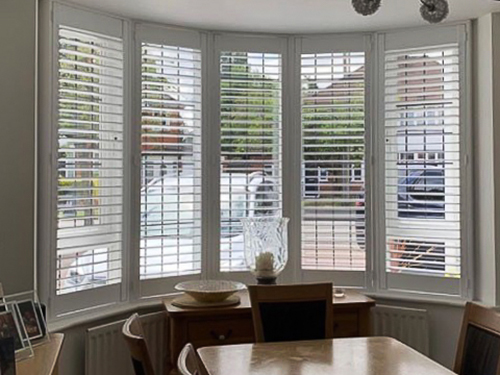 You can't go far in the UK at the moment without hearing the term "heatwave". Certain parts of the UK have even seen temperatures exceed 40 degrees! And while nobody is saying that this kind of heat will be a regular occurrence, it's now accepted as scientific fact that the world is getting hotter. In fact, the 10 hottest years since 1884 have all happened since 2002.
As such, it's more important than ever to find new and creative ways to keep the home cool in the summer. This is especially true of areas of the house that are more prone to higher temperatures. And that is where conservatory shutters come in.
Why opt for conservatory shutters? Well, for starters, they look fantastic, but we're sure you already knew that. However, there is more to plantation shutters than meets the eye.
Should I Get Conservatory Shutters?
That's a good question. And we certainly wouldn't expect you to simply take our word for it. After all, we sell shutters. It's in the name: Purely Shutters. So, of course we would say that shutters are the way to go. But shutters in the conservatory genuinely are fantastic for dealing with the summer heat.
Their abundance of glass makes conservatories particularly susceptible to overheating. Because they are measured to the exact specifications of your windows, our shutters cover them entirely. Their movable slats mean you can easily control exactly how much sunlight comes into your room, helping you to stay in the shade and out of the sun. Shutters are also ideal for allowing the circulation of air throughout the conservatory, helping you stay nice and breezy without having to let the sunlight back in.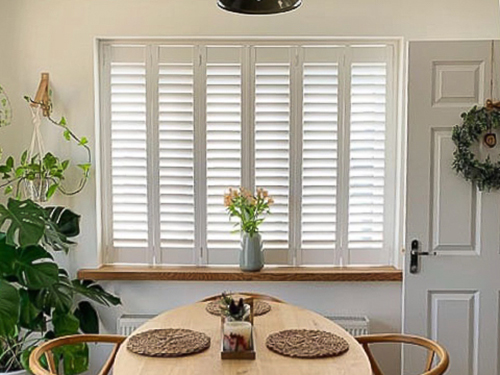 The Added Benefits of Shutters
So we've covered their cooling effects, but what else is there to say? In fact, there are numerous benefits of plantation shutters.
Added Privacy and Security
With so many windows, retaining your privacy in the conservatory can be a challenge. Plantation shutters will help you wave goodbye to those woes. They're very customisable, and you can even have the shutters constructed so that the top and bottom sections of slats move independently. So, you can have the bottom closed and top open, giving you the perfect blend of privacy and brightness.
The Allergy Sufferer's Choice
A perhaps unexpected benefit of shutters is that they're great for allergy sufferers. They're very easy to keep clean and – unlike curtains – don't gather much dust or other allergens.
A Long-Term Investment
With Purely, you'll get a 5-year warranty with every single purchase. But that's not to say that plantation shutters have a shelf life. Given the right love and care, your shutters will last for years to come, decades even!
Add Value to Your Home
Shutters can increase the asking price of your home. They are a semi-permanent fixture –permanent if cared for correctly – so this can be factored into the asking price of your home.
If you still have questions about shutters in conservatory rooms, we'd love to hear from you. Call us on 0800 038 5311 or book a free home survey.