Conservatories are a great way to add some extra space to your house and increase its value. Although they are the perfect place to relax with a book or enjoy a nice family meal, as they are made from glass they can get incredibly hot in the summer.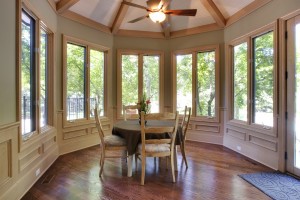 Rather than avoid this addition to your home during the warmer months, below are some great ways to keep your conservatory cool throughout the summer giving you that much needed space when you need it most.

Ceiling fan
Adding a ceiling fan is a fairly inexpensive way of getting the air flowing in your conservatory. The benefits of a ceiling fan include ease of installation and cost but the drawbacks are that some of them can be quite noisy and on a particularly hot day you might find that they're not effective enough.
Portable air conditioning unit
If you spend a lot of time in your conservatory, it's well worth investing in a portable air conditioning unit. They are very effective at cooling down any room so it's perfect for summer but remember to ask about noise levels before you make a purchase. Some units can be incredibly noisy which isn't conducive to the nice relaxing atmosphere you're probably trying to create.
Shutters
Very few people think to add window shutters to their conservatory but this can be done and it's a great way of keeping out the heat.
Whilst it's very easy to close curtains or blinds to keep direct light out the house, the problem is that you're then sitting in darkness when it's a beautiful day outside. Because shutters have slats it means that you can adjust them to deflect direct sunlight whilst still allowing natural light to come in.
Cooling film
A great way to keep your conservatory cool during the summer months is to apply cooling film to the windows. This is an adhesive layer which can reflect up to 80% of the sun's heat. Not only does this keep your conservatory cool, it also prevents harmful UV rays from damaging your skin and your furniture. You can find out more about cooling films and how they work by following this link: https://www.windowfilm.co.uk/residential/conservatory-too-hot.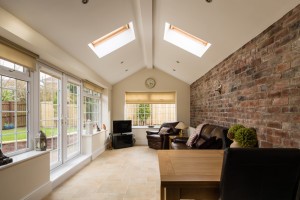 Open the windows
This sounds like an incredibly obvious thing to do but when it's hot outside we tend to just open the window closest to us. In order to get the air circulating however, open windows in different parts of the room, in different rooms and also keep doors ajar where possible as this will help to create a breeze.
If you're using air conditioning however, keep windows and doors shut because any cool air will simply disappear.
Choose your furniture carefully
Believe it or not, there are a number of ways that the furniture in your conservatory can help to keep you cool. If you have a sofa in there, try to avoid leather as this material gets very hot and can be extremely uncomfortable to sit on. When it comes to a table and chairs, opt for wood as it's both cooling and visually appealing. When thinking about your colour scheme, try to keep it light and neutral. Dark colours attract heat and can therefore make a room much warmer. Light colours absorb much less heat and can even reflect sunlight so wherever you can, still to neutral tones. For more information visit: https://www.motherearthnews.com/sustainable-living/energy-efficiency/natural-cooling-methods-zm0z15aszsor/