Window shutters have grown in popularity over the last decade and when you think about the benefits they offer over more traditional window furnishings, it's not hard to see why.
As well as being able to customise the design to fit into almost any window size or shape, they're low maintenance, look fantastic and can even add value to your home. Below we have highlighted five more fantastic benefits of plantation shutters.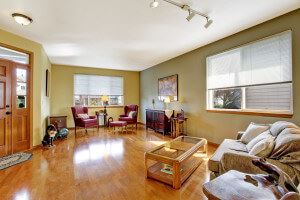 Improved privacy and security
If your property is adjacent to a street or backs onto other houses, it's hard to feel you're getting the privacy you need. This can particularly be a problem during the day when you want to let natural light in but are worried about neighbours or passers-by being able to see into your property.
Plantation shutters are fantastic at solving this problem because the lower louvres can be tilted closed while the top remains open to let in daylight. Alternatively, all the louvres can be tilted at an angle so that nobody can see in, but light can still filter through.
They're great for allergy sufferers
Because they require nothing more than the occasional wipe down to keep clean, shutters are much easier to maintain than other types of window dressings. Furthermore, dust doesn't collect on shutters in the same way it does with curtains and blinds. This means that you're less likely to have dust mites in the house which is hugely beneficial to those who suffer from asthma or allergies.
Better insulation
An added benefit of shutters is that they provide fantastic sound and heat insulation. In the winter, the timber barrier helps to keep the room warm which can even help to reduce energy bills. In summer, you can open your windows and keep the panels on your shutters closed so that air can circulate whilst keeping the heat out.
They're a good investment
Because window shutters are such a desirable feature, they make a sound investment for your home. Not only can they disguise unsightly PVC windows but with benefits such as improved insulation and better privacy and security, they're very appealing to potential buyers. Because they're a permanent fixture, shutters can also help to add value to your property.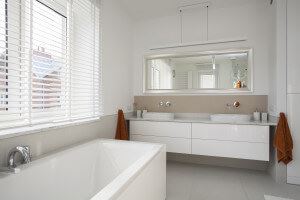 They can be used in bathrooms
Window dressings pose several problems in the bathroom. Curtains aren't very well suited to this environment and blinds may be great until you need to use the bathroom. You then have to shut them so you end up turning on the light even if it's the middle of the day.
Unbeknown to many people, plantation shutters are perfect for bathrooms. You can adjust the slats so that nobody can see in the room but they still allow natural light to come through so you don't have to use up any unnecessary electricity.
We ensure that our waterproof window shutters are very long-lasting as they are made using an ABS (Acrylonitrile Butadiene Styrene) plastic resin, combined with a co-polymer coating.
Get in contact today at 0800 038 5311 or book a home survey to talk to one of our experts in person!