October celebrates National Home Security Month (NHSM www.homesecuritymonth.com/) – a campaign which aims to raise awareness about the importance of protecting your home from the risk of break-ins. This is a topic which is particularly apt at the moment because unfortunately, burglaries are all too common at this time of year.
Research shows that when the clocks go back, break-ins spike by a whopping 38%. As if that isn't worrying enough, the Halloween and Bonfire Night period is statistically the worst time of year for burglaries with domestic damage skyrocketing by an incredible 160%.
One of the most effective ways of preventing a break-in is to make it as difficult as possible for potential burglars to gain access to your property. After all, nobody is going to risk breaking in if they think there's even the smallest possibility they might get caught and if they have to hang around for ages trying to get in, chances are someone will see them.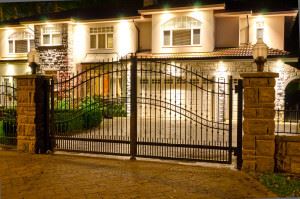 To help celebrate National Home Security Month, below we have listed some great ways to help improve the security of your home.
Install a gate
If your area is prone to break-ins and your property allows it, a gate can be a huge deterrent for robbers. Someone climbing a gate is likely to attract a lot of attention and it doesn't make for a quick getaway either.
Window shutters
Window shutters are a great way to improve the security of your home for a number of reasons. Firstly, when they're shut, it's impossible to tell whether somebody is home or not and nobody is going to risk breaking into a house if they think there's a chance somebody might be there.
Furthermore, shutters also act as an extra barrier between the outside world and your home. While smashing through a pane of glass can be quick and easy, trying to break down a solid piece of wood isn't. Burglars are looking for easy targets and if they have to try and get through two different barriers, chances are they'll go elsewhere.
Don't make it easy to access the back of your property
Gaining access to your home from the back will always be the preferred method because there is less chance of being seen. Ensure you have a secure gate stopping people from getting into the back garden and also check that the gate cannot be easily climbed to access other parts of the home.
Don't forget about securing doors and windows at the back of your property as well. Most of us will have a durable lock on the front door and are conscious about leaving windows open at the front but often forget about the back. If you have large glass doors, consider getting toughened or tempered glass because it's much harder to smash and use the same locks you would for your front door.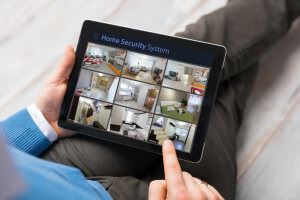 Install security measures
There are a number of simple yet highly effective ways of protecting your home including:
Burglar alarms – even if someone does break into your property, the loud noise will make them flee the scene immediately.
Security lights – as we mentioned earlier, nobody wants to risk being seen so if your house is lit up when someone approaches it, chances are they'll move on.
CCTV – it might sound drastic but if you're prone to break-ins, CCTV could save you a lot of money and heartache in the long-run.
Get a dog – anyone who owns a dog will know that they're often not too welcoming when strangers enter their home and loud barking is likely to put any burglar off.
You can find out more about why plantation shutters improve home security here. And if you think you want to invest in shutters and amp up your home's security game, why not get in touch and book your free home survey today?