It's that time of year when the all-too familiar arguments about turning on the heating begin. While some of us reach for the thermostat as soon as the temperatures start to drop, others try to hold out as long as they can in a bid to avoid their energy bills increasing.
If your household can't agree on whether to turn the heating on or not, below are some great ways to help keep your home warmer for longer (https://theconversation.com/10-ways-to-keep-your-house-warm-and-save-money-this-winter-67285):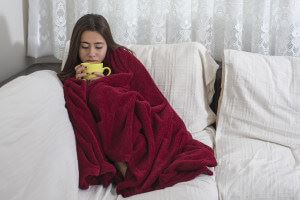 Identify where draughts are coming from
Even with the heating on, it can be difficult to keep your house warm if there are draughts coming in. Unwanted gaps in the construction of your home are common so make sure you look out for any potential sources of cold air entering your property including:
Windows (including cracks in the window frame)
Doors (including letterboxes and keyholes)
Electrical fittings on walls and ceilings
Loft hatches
Around any pipework which leads outside
Floorboards
Ceiling-to-wall joints
Fireplaces
Use rugs
While wooden floors look great and are much easier to keep clean than carpets, they're not great at keeping your house nice and warm. A lot of heat can escape through floor boards so in order to prevent this, try laying down rugs. As well as providing an extra layer of insulation, it will also help to keep your feet warm.
Think about your windows
Windows are one of the biggest causes of heat loss in our homes so this should be a big focal point.
Closing your curtains is an obvious way to prevent cold air coming in but chances are that you don't want to sit in darkness during the day. In this scenario, plantation window shutters can be a fantastic alternative. As well as providing an extra layer of insulation, the slats can be adjusted to let in natural light so you don't have to turn lights on unnecessarily.
Wrap up warm
It might sound obvious but the cheapest way to stay warm is to layer up. You may find that an extra jumper or wrapping a light blanket around yourself while watching TV is enough to delay putting on the heating for another few weeks.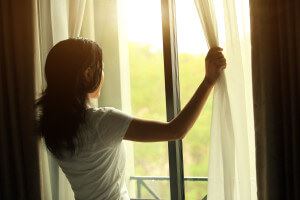 Make the most of any sunlight
Make sure you keep curtains open in rooms which get any sunlight. The sun's rays can significantly increase the temperature of a room and will therefore make the whole house feel warmer.
If you're worried about this being counter-productive because so much heat escapes through your windows, as we mentioned above, shutters can be a fantastic solution.
Close doors
Some rooms are harder to keep warm than others, even with the heating on. If there are certain areas of the house which feel colder than others, try to keep the doors to these rooms closed so that cold air doesn't escape.
Also try keeping the door closed in the room you're in. If you're sat in the lounge for example, your body heat and any electrical appliances you're using will help to increase the temperature of the room so try to keep this heat confined to the area you're in.
For further ideas visit https://www.hellomagazine.com/homes/20220208132635/keep-house-warm-without-paying-more-for-heating/ to keep you warm on chilly days.