In order to keep your window shutters looking great for as long as possible, regular cleaning is highly recommended.
The good news is that regardless of whether you have plantation or window shutters, they're incredibly easy to maintain and when using natural cleaning products, you don't have to worry about damaging them.
Below are some of our top natural cleaning products for window shutters.
Method washing-up liquid
All Method products are free from toxic chemicals, made from naturally derived ingredients and can be found in most supermarkets, to find out more about their ingredients visit their website – https://methodhome.com/beyond-the-bottle/ingredients/
Simply dispense some washing up liquid into warm water, soak a cloth in the solution and gently wipe over your shutters. Wring out the cloth as much as you can so you're not putting too much water on your shutters. Because water can warp wood, this cleaning method is only recommended on plastic or waterproof varieties.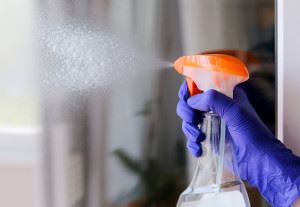 If you don't want to use a water solution, you can also use Method's Anti-Bacterial All Purpose Spray or the Wood Cleaner. To avoid getting too much liquid onto your shutters, spray the product onto a soft cloth and use that to wipe down the shutters.
If you can't find Method, Ecover is another brand of natural cleaning products which is readily available in most stores.
Wood cleaner and restorer
This natural cleaner not only keeps your shutters nice and clean, it also helps to restore wood so can be used on old furniture around the house that's in need of a bit of TLC. Simply mix one cup of water with one cup of white vinegar and 1 tablespoon of oil into a spray bottle. Mix well and then spray directly onto a clean cloth and wipe your shutters clean.
Use the hoover
If you're apprehensive about using any cleaning products on your shutters, simply get the hoover out. Using the soft brush attachment on the hose, lightly vacuum your shutters. This will help to keep them free of excess dust and debris and should be done at least once a week. If you have pets or you leave your windows open and a lot of pollen gathers on your shutters, you may need to do this more often.
Kitchen shutters
If you have shutters in your kitchen, they can be a bit more difficult to clean because they're subjected to grease and food smells. Simply mix 20 drops of lemon oil and twenty drops of lavender oil to a 50/50 solution of cooled boiled water and vinegar. This is a fantastic natural cleaning product because lemon is a great degreaser while lavender has fantastic antibacterial properties and will leave your kitchen smelling great.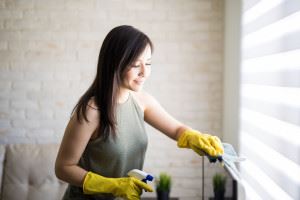 Use a brush
If you have plantation shutters, it can be difficult to clean in between every single slat. This Natural Blind Brush makes it easier than ever to remove dust and debris and because you can clean between three slats at once, you will be done in no time at all. Made from soft goat hair bristles, the brush effectively picks up dust without scratching your shutters. Check out the Lakeland website if you'd like to buy one: https://www.lakeland.co.uk/23370/Natural-Blind-Brush
Before using any cleaning product for the first time, please test a small, discreet area of your shutters to ensure it doesn't cause damage to the paint or material.