Purely Shutters are pleased to announce they will be adding MDF shutters to their range in the next couple of months. Watch this space for further announcements!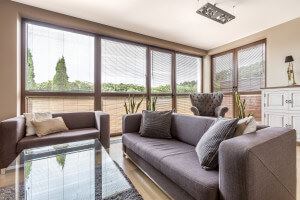 What are MDF shutters?
If you're looking for an affordable option for wooden plantation shutters and you don't want to compromise on quality, MDF Window Shutters are the perfect alternative to Wooden Shutters.
MDF (https://www.madehow.com/Volume-3/Fiberboard.html) is an engineered wood composite made with compacted residue from a mixture of both hard and softwoods. It's finished with a plastic coating which means the end-result is a product which looks great, is stable, hard-wearing and resistant to warping.
Although it's a more cost-effective option, when made into shutters, it's almost impossible to tell the difference between MDF and other options such as hardwood.
MDF does in fact offer exactly the same benefits as hardwood. It's worth noting that they're not particularly well-suited to areas where there is likely to be a lot of moisture, such as in bathrooms, where waterproof shutters (link to page).
Are there any drawbacks of using MDF?
MDF shutters look great in any room and the drawbacks of using them really are very minimal. It is a cheaper material than what we use for our hardwood shutters but at a glance, it's highly unlikely that the average person would be able to notice. They are a fantastic alternative if you don't have a huge budget for your window dressings or if you're a landlord renting your property out for example.
Your colour options are more limited but if you're looking for standard shades of white anyway, this isn't a problem. The main difference between MDF and hardwood is that your placement options are more limited. MDF is heavier than wood which means it could pose a threat to the integrity and functionality of weaker window frames. This is something your technician will be able to assess. MDF shutters are also less intricate when it comes to shapes and designs and they therefore aren't suitable for circular or triangular windows.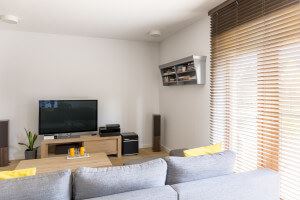 What are the benefits of MDF shutters?
The polypropylene coating on MDF shutters means they're resistant to chipping, cracking, fading and warping. This also aids in the prevention of moisture absorption
They boast very similar levels of quality compared to most other shutter materials but they're the more affordable option
Because MDF is made from various different woods and is finished with a plastic coating, these shutters are incredibly durable and benefit from increased resilience to scratches and dents
They're easy to maintain and clean and stains are easy to remove
Most people are unable to distinguish MDF from more expensive real wood options
They're made from composite wood which has been sustainably sourced from well-managed forests
Whether you chose MDF or real wood plantation shutters, adding shutters to your home will not only add style, elegance and privacy but could also improve the value of your property:
https://www.houzz.com/ideabooks/82236/list/are-plantation-shutters-the-right-choice-for-your-windows
If you would like more information about our fantastic range of MDF shutters, please don't hesitate to get in touch and we will be more than happy to help.