Many of us see the New Year as a fresh start so it's a popular time for potential buyers to start their house hunt.
While there are no doubt plenty of things you would love to see in a property (new kitchen, large bedrooms, stylish window shutters and a beautiful garden), below are five red flags to look out for when buying a home.
Structural problems
The foundation of a home is hugely important so ensure you have a thorough survey conducted by a reputable company before you complete. While minor cracking is fairly common and may only be a sign of settling, large cracks can be a sign of structural problems with the foundation which can cost you thousands of pounds to repair.
Other signs that more dramatic changes are taking place include:
Doors are starting to jam or won't latch
Large cracks are appearing in walls, especially over doorways, windows or where walls meet ceilings
There are cracks in the floor
Windows stick or won't close completely
Bad odours
A constant bad smell in a house (https://bouldenbrothers.com/strange-smells-house-come/)
can be a sign of anything from mould to issues with the plumbing or drains. Chances are that you will notice a bad smell within seconds of entering a property but also keep an eye out for signs that the current owner may be trying to mask a foul odour.
If the place is littered with air fresheners, candles are lit in every room or there are windows open in the middle of winter, it could be a sign that someone is trying to cover up a bad smell.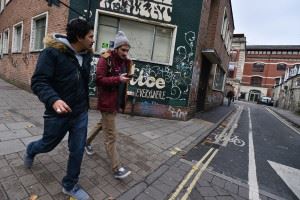 It's a bad neighbourhood
The neighbourhood you live in won't just affect your overall happiness while you're there, it will also play a huge part in the value of your property and how easy it is to sell when you're ready to move on.
Look into crime rates in the area, how many vacant properties are nearby, what the schools are like and if there are plenty of local amenities.
Electrical issues
Potential electrical faults should be taken very seriously because they can of course cause serious safety issues. Simple things such as turning on light switches, checking for flickering lights and ensuring outlets are in good working order can normally tell you a lot about the electrics in a property. Visit this site for more information:
https://www.thisismoney.co.uk/money/mortgageshome/article-3498654/Two-thirds-homeowners-fail-check-electrics-buying-property.html
It is however advisable to get a professional to check this out and some surveys even include this service.
Mould
A serious mould problem can be very difficult to get rid of, expensive to fix and incredibly bad for your health so make sure you look out for it when you're viewing properties.
Sometimes mould can be easy to see. You will normally spot it on walls or the ceiling, especially in kitchens and bathrooms because these areas are subjected to a lot of moisture. Just because you can't see mould however, it doesn't mean that there isn't any. The seller may have cleaned it off or painted over it so if you think it could be an issue, it's worth getting a professional in to carry out a mould test. Thankfully, a set of Full Height Shutters can prevent mould where curtains can encourage mildew.