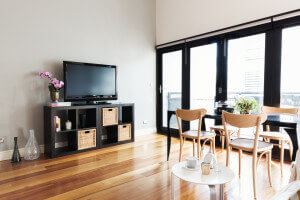 It's still fairly unusual to see bi-fold doors in homes across the UK but they do make a fantastic addition to any property. This unique type of door is often compared to a concertina as it slides open while its panels fold up and stack neatly against the wall.
If you're new to the world of bi-fold doors, are nervous about trying something new or simply just want some more information about this product, below are six great benefits of bi-fold doors.
1. They're compact
One of the biggest benefits of bi-fold doors is that they're incredibly compact and are therefore perfectly suited to homes where space may be an issue. If you have rooms where there simply isn't space for a traditional door or it's not practical to have one that swings open, something that concertinas back into itself is ideal.
2. They maximise living space
Bi-fold doors are often used in adjoining rooms because they give you easy access to the best of both worlds. When you want two separate rooms you simply close the door and then when you want to go for the open-plan look, you can open them and it looks like one big room that isn't separated by a door.
3. They provide added insulation
Bi-fold doors can be made from a number of materials depending on where you want them and for what purpose. If for example you want a solid wood bi-folding door separating your living room and dining room, it can act as a fantastic insulator. This is great for the winter months when you're trying to get your house warm because it keeps the warm air in and stops cold air creeping in through any draughts.
4. They're low maintenance
One of the many things that makes bi-fold doors such an attractive prospect is the fact that they're so low maintenance. Typically, they just need a quick wipe down with a regular cleaning detergent every once in a while to keep them looking fantastic.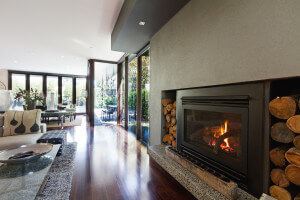 5. They're aesthetically pleasing
Bi-fold doors look great and can give any home the wow factor. They're also an attractive selling point if you're thinking of putting your property on the market. Not only do they let in plenty of natural light, they also make your house look modern and slick. You can also choose from a range of styles and designs to compliment your home so you don't have to worry about them looking out of place.
6. They're great for work spaces
Bi-fold doors work particularly well in offices because they provide a lot more flexibility. Say for example the whole company needs to get together for a meeting, you will require a large space to fit everyone in. Sometimes however people may need to work in smaller groups or two meetings might be happening at the same time. In this incidence, you will need two separate rooms.
Bi-fold doors for separating areas
When opened up, a bi-fold door allows you to have the maximum amount of space possible and then when they're closed, they provide two separate areas. This can also be a huge benefit to those who work from home. If you don't have separate office space, a bi-fold door can give you the privacy and space you need to carry out your work without any interruptions.
Plantation shutters are the perfect dressing for bi-fold doors, thanks to their many benefits. If you've been inspired to get some shutters for bi-fold doors, browse our patio door shutters, or go ahead and get a quick quote online.