French and patio doors have become more common in homes over recent times. As well as being aesthetically pleasing they have lots of other benefits. They bring the outdoors inside, helping you to feel more connected to the outside; they can create big open spaces for parties and gatherings; they are great for security; and most importantly the large glass panels allow rooms to be flooded with natural light which has been proven to be a great health benefit.
French and Patio Doors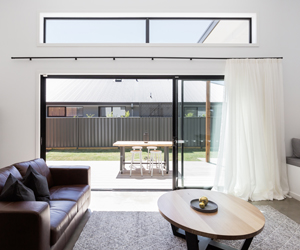 As much as they are a wonderful addition to any room, finding a suitable window dressing for both French and patio doors can be quite daunting. Curtains are an option, but you may find that bespoke curtains, rather than ready made curtains are your only choice due to your windows being bigger than standard sizes. Another option is of course to do nothing. This obviously gives you a great cost saving, but at night the glass can be particularly uninviting and can leave you feeling exposed and vulnerable.
Installing window shutters however will not only complement your French or patio doors, but they are an extremely versatile window dressing that will add an air of timeless elegance to your room. There are a range of suitable styles available for French door shutters and patio door shutters, which can be custom-made to fit your windows and designed to suit your décor and taste.
Full Height Shutters
A very popular choice is full height shutters which can be made to fit inside your window reveal. This means your French or patio door shutters will fold back into the reveal. Alternatively, if you would like your French window shutters to fold back against your wall your shutters would be fitted outside of the reveal.
Tracked Shutters
Tracked shutters are another popular option (particularly if you are planning on opening and closing your shutters daily) for wider windows when a framework would not be practical to carry the weight of the shutter panels. They can also be installed with or without a bottom track.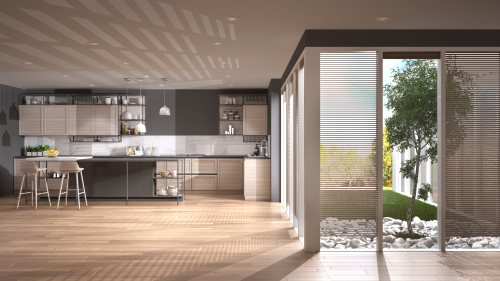 Choosing window shutters as a dressing for your French or patio doors is not only a stylish and elegant solution for your room but they also offer many other benefits for your home including privacy and light control options during the day and at night.
Having French door shutters or patio door shutters fitted to your windows will also add an extra layer of insulation to your home during the winter months. In the summer you can also use your shutters to control the heat in your home. By closing your shutters, opening your doors and using the louvres to point direct sunlight away, you can create a natural breeze to keep your home cool.
If you would like to find out more about our range of stylish and practical French window shutters and patio door shutters, call us today or why not book a free home survey by following the link.