As people start to realise the huge benefits they boast, interior wood window shutters are more popular than ever. Just a few of their advantages include the fact that they maintain their value better than any other type of window covering, they're attractive, they can regulate light, insulate a home and help to eliminate outdoor noise.
If you have already made the decision to invest in plantation shutters, your next step is no doubt to select the style, colour, design and even material that you want. One of the many options you will be presented with is whether to go for wood or plastic shutters so below we have highlighted the benefits of each.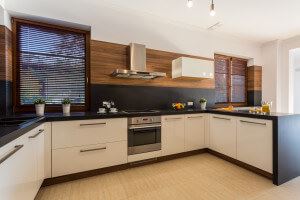 Wood Plantation Shutters
*  If you're after a warm, authentic and traditional look then wood plantation shutters are an excellent choice. They also look incredibly classy and elegant and always manage to give off that luxurious feel. Plastic varieties often struggle to replicate the ambiance that wood plantation shutters create and you therefore may not get the full effect that you should from this type of window dressing.
*  The quality of wood shutters is unrivalled. This type of material is strong, durable and hard-wearing and you can therefore guarantee that it will last for many years to come.
*  Wood shutters are usually available in a variety of different types of woods and colours which means that you can find the perfect set to suit your home. In comparison, plastic shutters are usually only found in white or off-white so you won't be able to get a precise colour match.
*  Regardless of whether you have arched, angled or other speciality shaped windows, you will be able to find wooden window shutters for your interior space. It is much harder to find this for plastic shutters and even when you do come across them, they are cheaply made with inferior components and poor workmanship. If you do have unusually shaped windows, it's highly recommended that you go for wood plantation shutters over the plastic variety.
Plastic shutters

*  If you can't afford wood shutters, getting some made from plastic are a great option because they cost quite a bit less. This is sometimes reflected in the quality however so make sure you do your research thoroughly before making a purchase.
*  Plastic shutters are particularly well-suited to humid areas such as in a conservatory or a shower room or near Jacuzzis and sinks. Because they are also moisture resistant, they're an excellent choice around swimming pools or if your shutters are likely to be exposed to saltwater from the sea.
*  An excellent benefit of plastic shutters is the fact that they're very easy to clean. You don't need any special products, they wipe clean very quickly and typically, dents and scratches don't show up on them either. This makes them particularly great in children's rooms or areas where your window dressings may be subjected to a large amount of wear and tear.
*  If you're worried about fire safety, an extra advantage of plastic shutters is that they're flame retardant. This makes them ideal for those who are particularly safety conscious or in rooms such as the kitchen.
Get an instant quick quote now, and see if shutters can work for your home.