If you're thinking about redecorating your bedroom or adding a few touches to give it the wow factor, bedroom plantation shutters may be just what you need.
Aside from the fact that they look stunning in any home, below we have highlighted five other reasons why you should be adding shutters in the bedroom this year.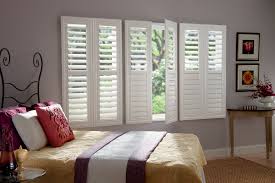 Bedroom shutters are a great space-saving option
We all want to make our homes appear bigger and a great way to create the illusion of space is with bedroom window shutters. Because this type of window dressing fits into the window recess, there is no protrusion into your room. Curtains on the other hand are often fitted on the outside of the window recess which is particularly noticeable with bay windows.
Bedroom shutters help control the temperature of your room
Maintaining the right temperature in your bedroom is crucial for a great night's sleep. As plantation shutters form a solid barrier between the window and your room, they are great heat insulators and can make a big difference when it comes to keeping your room warm during the winter months. Even if your windows are draughty, with the louvres shut, you don't have to worry about any heat escaping. The temperature-regulating qualities of bedroom shutters are one of the many things that make shutters worth the cost.
It can be particularly difficult for us to get comfortable at night when it's very hot outside. Even if there is a bit of a breeze outside, it's difficult to make the most of this when we close our curtains. One of the greatest benefits of having plantation shutters in your bedroom is that you can adjust the slats to allow air to circulate the room without having to compromise on your privacy.
Bedrooms with shutters can help allergy sufferers
Many allergy sufferers find that their symptoms get worse when they go to bed. This may be because we're confined to the same area for a prolonged period of time, some of us don't like to sleep with the window open because of noise, we don't change our sheets as often as we should or you may even be allergic to the materials in your pillow and duvet.
Dust mites are responsible for the majority of year-round allergy problems in the bedroom as it's easy for them to gather in mattresses, blankets, carpets and curtains. Curtains are unfortunately a great place for dirt, dust and pet hair to hide because we don't often think to clean them. Because shutters are made from wood however, it means they're simple to wipe down and you don't have to worry about months or even years of dust collecting on them, making them a great solution to allergy woes!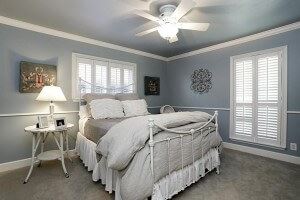 Bedroom plantation shutters add the wow factor
One thing that can be said about plantation shutters is that they certainly do add the wow factor to both the inside and outside of properties. They're timeless so you don't have to worry about them going out of fashion, they're elegant and they're incredibly versatile which means that they will look great in your home even if you decide to redecorate. Explore the beautiful styles available and see the variety of looks we have.
Bedroom window shutters keep out noise
If you live on a busy road it may be difficult to get a good night's sleep. Fortunately, plantation shutters help reduce noise, because they provide a barrier between your window and your room. Whether it's cars driving past, planes flying overhead or people passing by, shutters in the bedroom are an effective method of reducing noise levels.
See our page on bedroom shutters, or get a quick quote to see what your options are!