Fewer things can be more disruptive to the daily routine than excessive noise, as we have all experienced tenfold in recent years! Spending more time at home has emphasised how distracting noisy neighbours and busy roads can be to our sleep, work, and enjoying time with family and friends. So what's the best solution to make your home more soundproof to the bustling streets outside?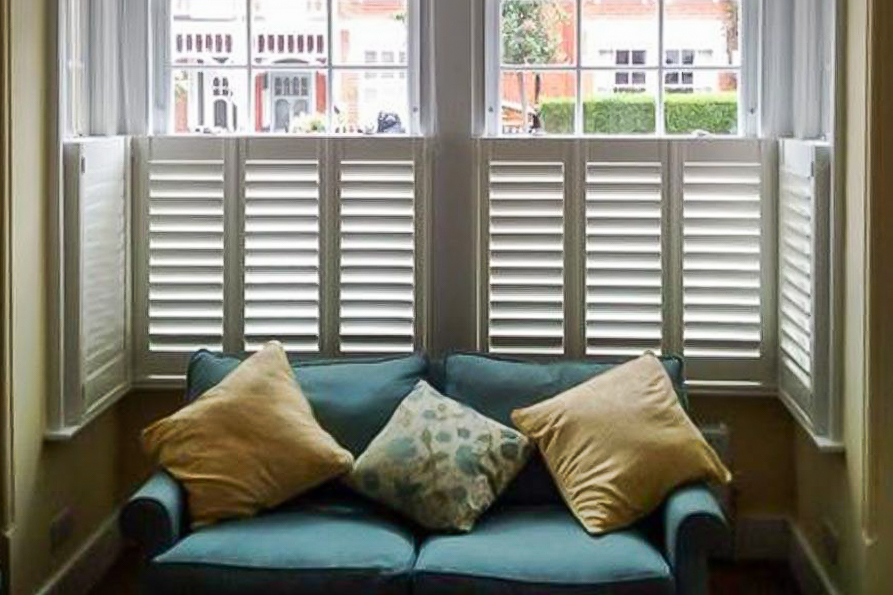 Window dressings can have a big impact on minimising the clamour of the outside, creating a more peaceful atmosphere within the home. An essential to the wellbeing and comfort of us all, being able to have a tranquil escape from the outdoors and create an intimate, secure environment provides us with that vital sense of home. Achieving a quiet ambience shouldn't require turning your home into a recording studio, so what's the most effective method? A popular question we're asked is 'do shutters block out noise?', and in simple terms, yes!
Stick around to find out how much shutters reduce noise and whether they're worth investing in.
Effects of noise pollution
In reality, excessive noise isn't just vexing, but consistent noise pollution can actually impact our quality of life. The World Health Organisation warns that we can be afflicted with disturbed sleep, heart disease, and incur negative psychological effects when exposed to loud noise routinely. Worsening our health and performance at work or school, unwanted sound can have a real detriment on our lives.
Living in noisy areas is unavoidable for many of us, with busy road noise, loud music, and rowing neighbours being an inevitability. But nobody is powerless to curtail this rowdy inconvenience! Thankfully, shutters add another layer of insulation to windows that has a range of benefits other than just preventing heat loss.
Can shutters reduce noise?
Our made to measure shutters offer frames that are installed into windows, creating a blanket of noise absorption for your interiors. But can you get noise-cancelling shutters? No, we can't promise complete noise cancellation, however the quality of Purely Shutters products means that sound travels less and drastically reduces outside noise.
From bedrooms to the study, installing shutters into your rooms facilitates more restful sleep and a more productive atmosphere. With working from home being the way of the future, creating an appropriate workspace is an absolute must!
Do wooden shutters block road noise?
While wooden shutters are the best material shutters for reducing noise, that's not to say that our waterproof shutters aren't still effective for those rooms that require them. While you'll find the most capable noise-reducing material to be our quality wood shutters, this isn't practical for rooms exposed to high moisture levels, such as kitchens and bathrooms. The good news is that plastic shutters still impede outside noise from entering your home, making all of our shutter materials useful for noise reduction.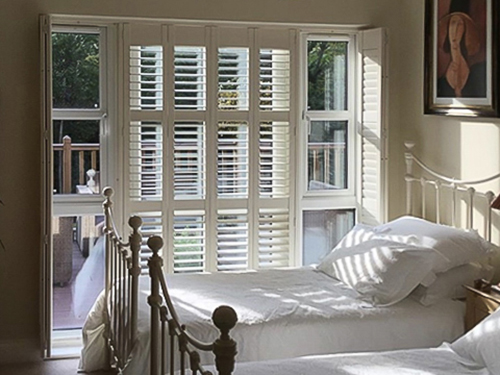 What shutters are best for noise reduction?
Shutters that cover the whole of your window will ensure that noise coming from outside of your home is lessened, however there are certain styles that will prove more effective! Needless to say, cafe style shutters won't be as effective if you're specifically designing with noise control in mind.
Louvred shutters minimise noise, with the slats able to close to create a barrier for your windows. If louvre shutters are your preferred style, full height shutters and tier on tier shutters would be your best bet. Chic and functional, these gorgeous styles can ease your home into becoming a more cosy space.
For game-changing noise reduction, solid panel shutters are the prime option. These sturdy panels are optimal for limiting outside noise from penetrating your home, working both ways to keep noise within the home from spilling out into the streets. Solid wood shutters are undoubtedly the hardest workers when it comes to fighting noise pollution within the home, so this is the ideal style for houses or rooms with a particularly high influx of unwanted sound.
To learn more about the incredible benefits of adding shutters to your windows, go ahead and call us on 0800 038 5311, or book a free home survey to arrange a visit with our skilled surveyors.