Shutters have many benefits and one of their greatest is that they are extremely versatile. No matter if you have a bay window, large patio doors, sash windows, or even small special shaped window, plantation shutters are a flexible solution that are not only stylish, but wonderfully practical too for any type of window.
Deciding to install window shutters in your home is very exciting but it can also be quite daunting if you're unsure where to start. With so many styles, ranges and features to choose from, it can quickly become overwhelming.
Here at Purely Shutters we have a team of experienced surveyors who will lead you through the whole process to ensure your shutters not only look great but also deliver all the practical solutions you need from your plantation shutters.
There are many different factors to consider when choosing the perfect shutter design for your home and to help here's a brief overview of each of the styles we offer.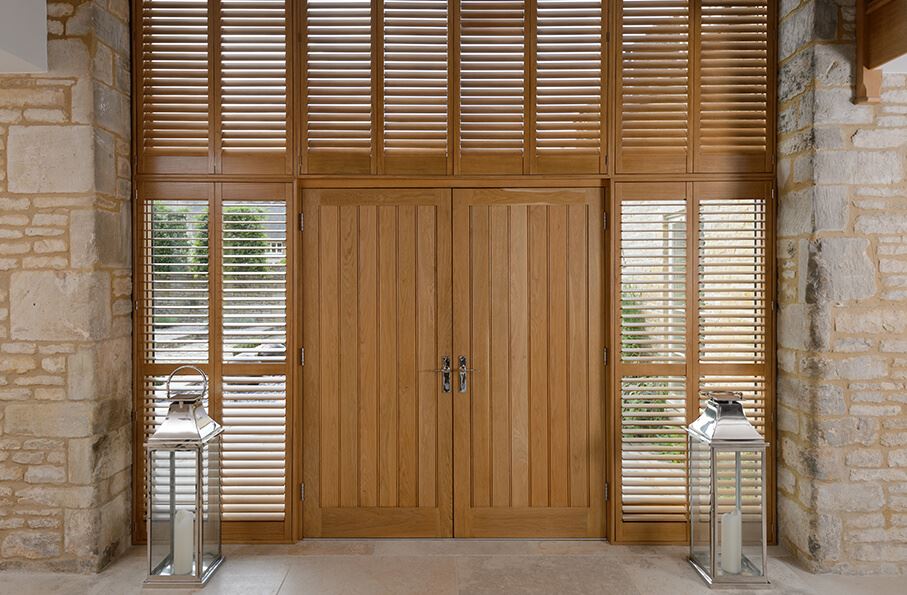 Full Height
Full height shutters are a very popular choice of window shutter. They cover the entire height of your window and are ideal if you would like to keep your shutters mainly closed. You can keep the panels closed for maximum privacy and light control or adjust the louvres to allow light into your room without compromising on privacy. We would recommend full height shutters for bay windows and patio windows.
Café Style
If you live on a busy road or have a window that people often walk by, you may want to opt for traditional café style shutters. Café style shutters cover just the bottom half of your window allowing light at the top but give full privacy in the lower section to keep prying eyes out. Best for rooms that require less coverage from the outside, café style shutters would be great for living rooms, kitchens, and dining room windows.
Tier-on-Tier
Tier-on-tier shutters are full height window shutters made up of two independent shutter panels. As the panels operate independently from each other you can open the top section to allow light into your room but keep the bottom section closed for privacy. Elegant and classy, tier-on-tier shutters work wonderfully well in bay windows and classic Victorian sash style windows.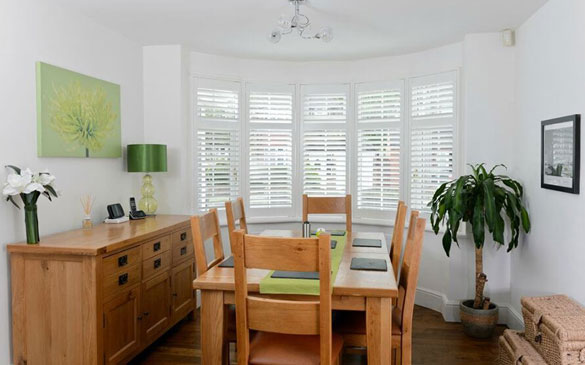 Bay Window
No matter what shape your bay window may be, plantation shutters are a timeless, classic, unrivalled window dressing. Bay window shutters can be designed in a variety of different shutter styles including café style and full height, giving you the flexibility of choosing those features that are important to your lifestyle and your home.
Patio Doors
Large patio doors are becoming an ever more popular addition to our homes, helping to seamlessly integrate the outdoors with the indoors. Large expanses of glass however can pose problems for traditional window coverings. Window shutters however, due to their versatile nature, offer the perfect window dressing solution. As your shutters are made to measure you can be assured that they will fit your window perfectly and can be designed with features that are important to you.
Tracked
If you have a large opening, tracked window shutters offer the best solution especially if you would like to open and close your shutters on a daily basis. Ideal for large patio doors or even as room dividers they are an elegant solution which can be fitted with or without a bottom track for increased stability.
Solid
Solid shutters are probably the most traditional type of window shutters. Offering near black out they are ideal for bedrooms and are also great for heat insulation, noise reduction and increased security.
Special Shapes
Arches, apex, circular or triangular, your special shaped windows lend themselves to a shutter solution. There is no other window covering that will really highlight your windows natural beauty.
Why not browse our gallery to see some of our inspirational shutter designs? Or get started on your shutters journey with a free home survey.