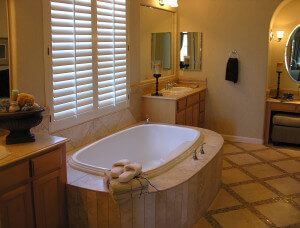 Bathroom window shutters have become a very popular addition to many people's homes. Because they're made from wood, however, many people often assume that shutters for bathroom windows isn't a wise idea.
Normally, wood is susceptible to damage in humid and steamy environments so people are correct in thinking that normal shutters aren't suitable for the bathroom. The great news is that some providers like us now offer waterproof shutters which are ideal for bathrooms, wet rooms and any other places with high moisture content.
A co-polymer coating and an ABS (Acrylonitrile Butadiene Styrene) plastic resin are both used in the construction of waterproof window shutters to ensure their durability despite being frequently exposed to water and moisture.
This means waterproof shutters for shower windows can make a great addition to any bathroom, but they also have numerous other benefits for your home.
Bathroom window shutters look great
When it comes to bathrooms, a lot of people like a modern design and waterproof shutters fit in perfectly with this. Out of all the options for window dressings, shutters really are stunning so if you're looking to create the wow factor in your bathroom, this is the way to do it. And, with a range of styles available, you can ensure that your tastes are met!
Shutters in the bathroom are more hygienic
Naturally, we're more concerned about hygiene in the bathroom and will therefore do whatever we can to maintain high standards of cleanliness in this area.
One of the biggest benefits of bathroom shutters is the fact that they're very easy to keep clean. Simply wipe them over with a damp cloth and a suitable cleaning solution and you don't have to worry about germs and bacteria accumulating.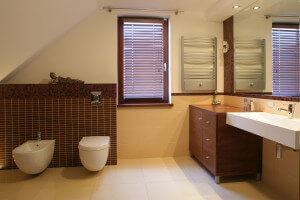 Shutters for bathroom windows create privacy and light
One of the problems many people find in the bathroom is that they have to choose between privacy and natural light. If you have curtains or blinds for example, you have to close them every time you use the bathroom.
The great thing about bathroom shutters is that you don't have to compromise on either of these things. You can adjust the slats at an angle to ensure that nobody can see in and this means that natural light can still enter the room. The added bonus is that this is better for the environment and saves you money on your electricity bill.
You can leave the window open
You may like to keep the window open when you're having a bath or shower in order to prevent too much steam or moisture from accumulating. The problem with this is that if it's windy, curtains move around a lot – compromising on your privacy. Furthermore, blinds can be very noisy when it's windy which is not conducive to a nice, relaxing bath.
Because shutters are solid, you don't have to worry about them moving around or generating any noise no matter how windy it is.
An added bonus is that shutters for bathroom windows also offer more security when your windows have been left open. You should always try to remember to close any windows when nobody is home because this could affect your home insurance policy. In the event that the odd open window does escape your attention however, you can rest assured that not only is it virtually impossible for a potential intruder to see through the window, but bathroom shutters can also act as a deterrent because they don't allow quick and easy access like curtains and blinds do.
So, now you know that shutters for bathroom windows are a wise choice, you can start to reap the benefits yourself! Get an approximate price point with a quick quote or book your free home survey today.