When we're looking at ways of improving the way a company is run, we tend to think about how we can reduce costs, improve staff morale, manage company reputation and of course, maintain high levels of customer service.
With an increasing amount of evidence suggesting that office design has a huge impact on employee productivity and happiness however, is this something business owners should be looking at in more detail?
If you're considering changing the décor of your premises, installing window shutters is a great place to start. The benefits of shutters for the home is well known, but how can shutters benefit your business? The Purely Shutters experts have listed the top five reasons to make the switch to window shutters in your workplace.
Five benefits of window shutters for businesses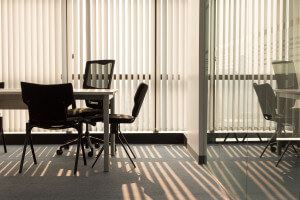 They block out sunlight
We all love it when the sun comes out but unfortunately, the glare this creates on our computer screens makes it very difficult to work effectively. One of the best things about shutters is that they allow you to block out the sun's powerful rays while still letting in natural light.
They help to create a more environmentally-friendly office space
Solid shutters are particularly good heat insulators and do in fact have RV values similar to interior wood doors. This is fantastic for those cold winter months when it can take forever to heat up an office.
Shutters are also very effective at keeping areas cool in the summer because they stop the sun's rays from entering the room. The result is that you don't have to have your heating or air conditioning on for as long as you might normally so as well as being more environmentally-friendly, it can help to reduce your business's energy bills too.
They look great
As we mentioned earlier, office design has been proven to impact productivity. It's natural that people want to work in a nice environment and installing shutters is one of the many great ways you can add style, class and improve the overall look of your premises.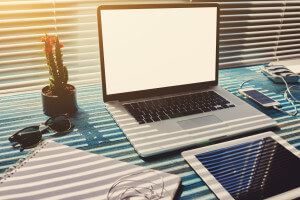 They're easy to maintain
Even if you have a cleaner, windows are often neglected and can end up looking tired and dirty very quickly. It's incredibly rare to see curtains in an office and blinds can be very fiddly to clean in between each individual slat.
Solid shutters on the other hand couldn't be easier to keep clean – simply wipe down with a damp cloth. Because they're made from one solid piece of wood, you don't have to worry about trying to get into tiny little areas that accumulate dust.
They improve security
Offices are usually filled with valuable possessions. Whether it's electrical equipment or confidential client details, nobody wants to worry about the repercussions of a break-in. While burglar alarms are highly recommended on any commercial premises, solid shutters can help to provide an added level of security.
If a building looks difficult to break into, burglars are going to give it a wide berth because the longer they're there, the more likely they are to get caught. A strong, solid piece of wood isn't going to be easy to break down and is therefore a fantastic deterrent. It also offers you extra security should someone accidentally leave a window open overnight.
If our blog has inspired you to install shutters on your business premises, you can use our Quick Quote calculator to get an idea of how much your made to measure shutters will cost, or book your free survey today. Our experts will visit your place of work, offer advice and guidance, and give you a realistic quote.