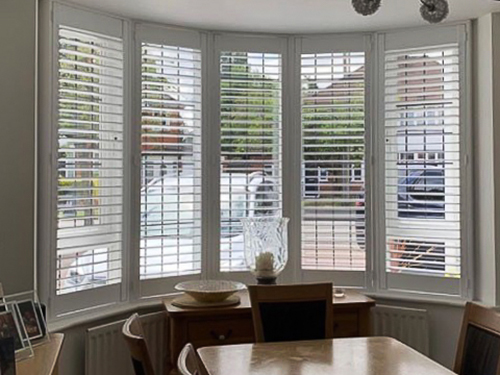 Summer is in full swing, and with it comes barbecues, long days, short nights, al fresco dining, and, of course, the summer sun. While the extreme heat may be a fleeting feature of the British summer, the mercury can rise into the high-20s and early-30s. These high temperatures are particularly impactful in a country where most homes don't have air conditioning. This makes proper heat management particularly important. Luckily, shutters are a great way to block out heat and keep your home nice and cool. Want to learn more? Great! Just keep reading…
Do Shutters Help Keep Heat Out?
We love to wax lyrical about shutters and insulation, but the same goes for how shutters keep the house cool, too. One of the best things about louvered shutters is how the panels can stay closed while your windows are open. The movable slats can be easily adjusted to increase airflow to your home and offer shade. So, if the heat gets to be too much, simply close the slats over, let in the cool breeze, and shade your room from the sun's rays.
Not only do shutters block out heat to make your home more comfortable, but they also protect your fixtures too. If you're still wondering do shutters block out light, the answer is yes, and this can do wonders for your home. Over time, exposure to direct sunlight can cause damage to wood floors, carpets, and furniture. Regulating the light coming into the room can guard your décor, helping it last for years to come.
Cool Shutters, Security and Light Management
You might say that there are several reasons why it is not practical to leave your windows open during the day to keep your home cool:
It is a serious security concern, especially on the ground floor level. Would-be intruders may find it easy to sneak into your home.
If you have pets or children who enjoy climbing, then an open window can be a hazard.
People can see into your home, invading your privacy.
Luckily, cool shutters effectively deal with each of these scenarios by acting as a barrier between your home and the outside, while at the same time preventing children or pets from accessing the windows.
At the same time, the light will cascade off partially opened slats and reflect into the room. So, your room can stay light and breezy without overheating! This doesn't have to sacrifice privacy, safety, or security.
This versatility is one of our favourite things about shutters.
Shutters v Curtains – Who Wins?
So, what about curtains? Well, they can have an impact, but they are not as effective at keeping your house cool as shutters. If your curtains are dark in colour, closing them can make rooms hotter! This is because curtains may stop cold air from entering your home. They do this by creating an air gap between the room and the window, preventing fresh air from circulating throughout your rooms. This does not happen with cooling shutters because they are always fixed flush to your windows.
So, do shutters keep a room cool? You bet they do, and they do it in style! At Purely, we have a beautiful range of colours, styles, and materials for you to choose from. Protecting your home against the heat doesn't have to be a drag.
Get in touch today and say goodbye to those sweltering summer days indoors. Call us on 0800 038 5311 or book a free home survey.