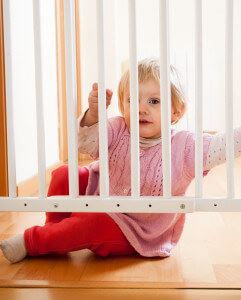 As a parent, your child's safety is your number one priority and once kids start to learn to crawl and walk it becomes very apparent that you need to childproof every area of your home. When it comes to kid's room décor, while visual design is a big part of the fun, ensuring that all features and furnishings won't act as a safety risk for your little one is a top priority.
As well as the obvious – securing cupboards, putting up stairgates, ensuring nothing fragile or dangerous is within arm's reach and keeping them safe from gas and electricity, childproofing your windows is another way to protect your kids from harm.
It's not just the fact that a child could fall out of a window, things like pulling down curtain rails could cause injury or having any strings dangling down from blinds can be incredibly dangerous.
Risks of Having Curtains in Your Homes
Curtains are the natural choice for many people in their homes but if you have children, this could pose several problems. Firstly, any ties that can easily be pulled off can be a concern in case a child manages to get it stuck around their neck.
Another problem with curtains is that they accumulate dust quickly and they're difficult to clean. If you have kids who suffer from allergies or asthma, any excess dust in the house can make breathing difficult for them – especially at night when they're confined to one room.
Blinds can also prove to be dangerous for inquisitive children because they rely on a cord to function and children can easily get tangled in these hanging obstacles.
Plantation Shutters for Kid's Rooms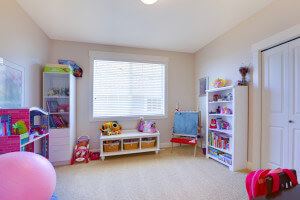 Worry no more about the best kid's room ideas, we have the perfect solution! When it comes to childproofing windows, plantation shutters are a fantastic option. Below we have highlighted just a few of the benefits of this window dressing over the other alternatives which are available:
Window shutters are timeless which means that even when the children have grown up and moved out, they will still look great! With a wide choice of shutter styles, you can find the perfect match.
They're easy to keep clean and dust can therefore be removed quickly and easily. The ease of maintenance also helps to prevent the growth of microscopic bugs and microbes which are often found on other types of window dressings
You don't have to worry about any hidden dangers such as ties and cords
They act as a barrier so that your child can't fall or climb out of the window
They offer fantastic light control – you can opt for complete darkness for nap times during the day or if you go in for a feed, you can let in just enough light so you can see what you're doing without startling your child by turning on a bright light or fully opening a curtain
Whereas curtains or blinds can easily be pulled down by even young children, shutters are incredibly strong and hard-wearing. Even an adult would struggle to pull shutters off so this is one less thing you have to worry about
Shutters also act as a fantastic sound barrier which once again is perfect for trying to get children to sleep. If they can hear other children playing outside or a lot of road noise for example, this can disrupt sleep patterns and cause problems trying to get them to settle down
With so many amazing perks and safety features, shutters are a winning treatment for window childproofing and are perfect for nursery windows or children's rooms! Get going on decorating your kid's windows with a quick quote, or go ahead and book a free appointment with our expert surveyors!