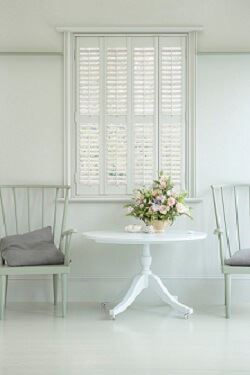 photo credit: The Little Greene Paint Company via photopin cc
Shutters make the perfect addition to any home – they offer better security, increased privacy, keep the warmth in, are incredibly versatile and very durable. It's impossible to go wrong with a great set of shutters so below we offer some helpful tips to help you ensure that you choose the right ones for your home.
Plantation versus solid shutters
Plantation shutters are an incredibly popular style because they have slats that rotate open and closed and therefore allow light to come into a room whilst still offering privacy. Solid shutters are designed to be folded back during the day and then closed at night. They are ideal for those who want to create a more traditional look and allow the maximum of daylight to enter a room.
Choose the right material
Although remain a firm favourite when it comes to shutters, there are now a whole host of other options available depending on your requirements. From low density fibreboard and premium grade basswood to more traditional woods and waterproof materials, the options are endless. Some materials offer greater durability, strength and flexibility whilst others are cheaper and offer less warping and shrinking so it's wise to speak to a professional before settling for something. After asking questions about your home environment, they will be able to effectively assess which material is best suited to your house. We offer a range of materials for lightweight shutters, wooden shutters and waterproof shutters.
Compliment the room
When it comes to choosing a colour and style for your shutters, think about the room you are going to put them in and how you can compliment it. If it's already quite a bold room with bright colours and strong designs, a simple style and neutral colour always works well. However, if the room is quite plain and could do with a bit of brightening up, a splash of colour could do just the trick. As a rule, if you are looking to make a room lighter, then colours such as white, yellow, beige and anything else fairly neutral will do the job. If your room is already bright, then black, brown and any dark colour can create an excellent contrast. Our previous blog discussed how shutters can affect the interior of your room and how to make a room look larger and brighter.
What shape is your window frame?
Although shutters are available in many different shapes and sizes, your existing window frame is ultimately going to determine the style you opt for. Don't worry if you have unique shaped windows, these can all be catered for. From arched and angled to round, triangle, hexagon and octagon shapes, there will be something to suit your window frames.
Do you have enough space?
It might sound obvious, but in order for shutters to look their best, you need to make sure that you have enough room for them. If a window is too close to a corner, then the shutter will stick out beyond the edge of the house and won't look right. If you have your heart set on shutters but space is a bit of a problem, don't instantly dismiss them, there are many available in a wide variety of shapes and sizes, chances are that your needs can be catered for.
What does your house look like?
Finally, one of the top ways to ensure that your beautiful new shutters are going to improve the appearance of your home is to ensure that you opt for a style that is co-ordinated with your home. If your property is older and boasts traditional features, then an older design will compliment this perfectly. Country Life magazine featured an article on country houses and shutters. A top tip is to ensure you check your window recesses properly as you never know what you might find hidden away! However, if you have a new build, then modern style shutters come highly recommended.