Upvc windows are a desirable choice for homeowners because of their many benefits. As well as being durable, low maintenance and rot resistant, they're also great at keeping the heat in, the noise out and offering extra security.
With your Upvc windows and doors doing so much for you and your home, how can you keep them clean to ensure they stay looking great for many years to come?
Basic cleaning tips
The good news is that Upvc is low maintenance and easy to clean. Start by pulling your curtains or UPVC window shutters back and then opening the window as far as you can. Use a hoover to vacuum up any built-up dirt in alcoves, hinges and opening mechanisms. Try to use a soft brush nozzle if you have one because this will minimise the risk of scratching your windows.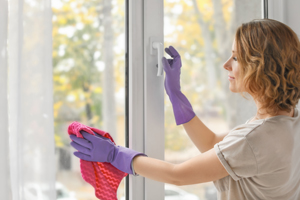 There's a product for just about everything these days but all you need to keep Upvc windows and doors clean is good old fashioned soap and water. Simply mix some washing up liquid into warm water and use a soft cloth or sponge to wipe down the surface.
Believe it or not, baby wipes are also a great cleaning tool. They're handy to use as they can fit in even small areas and because they're gentle enough to use on babies, you don't have to worry about them damaging your windows.
Do be careful about what you use to clean your Upvc because as well as scratching the material, certain products such as cream cleaners can remove the glossy finish.
The winter months can leave windows looking particularly dirty but if you don't want to expose yourself to the harsh chemicals found in cleaning products, you can make your own. Simply mix together two cups of water with ¼ cup of vinegar and half a cup of washing up liquid. Use newspaper to clean your windows in a circular motion and they will be squeaky clean in no time.
Whitening window frames
Whether it's walls, doors, windows, carpets or curtains, it's difficult to keep anything white looking perfectly clean for long. If your Upvc windows and doors have lost their shine thanks to a build-up or dirt and grime, this handy tip can significantly help to restore them to their former glory.
Mix one-part vinegar to four parts hot water and pour the mixture into a sprayer. Spray onto your windows and doors and leave to stand for 10 minutes. To finish, use a clean, dry and smooth cloth (to avoid scratches) to wipe down and remove any excess liquid.
What to avoid when cleaning Upvc?
It's important not to just use any old cleaning product on Upvc because you can cause irreversible damage such as scratches, discolouration and the removal of their glossy appearance.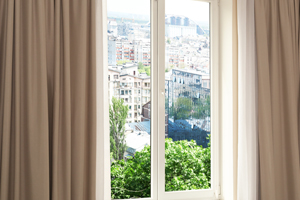 Points to remember include:
• Don't apply too much pressure when cleaning
• Avoid bleach at all costs
• Remember that cream cleaners are slightly abrasive and can therefore remove the shine from Upvc materials
• Don't use methylated spirits, WD40 or white spirits
• When it comes to cleaning tools, only ever use a soft cloth or sponge. Avoid wire wool, iron wool or scouring pads because they will leave scratches
Clean windows and fresh shutters go hand in hand! See our comprehensive guide for cleaning shutters, or to see if UPVC window shutters are right for you, you can book a free home survey today!