Whether you have recently had window shutters installed or have had them for several years, cleaning and maintaining your shutters is essential to keep them looking wonderful. Shutters will bring many benefits to your home such as curb appeal and privacy, as well as sound and thermal insulation but one of the best lifestyle benefits is how little maintenance they need to keep them looking spick and span!
Here are our top tips on how to look after your shutters to ensure they stay looking as timeless and elegant as they day they were first installed.
Dust
As with any home dust really does get everywhere and your shutters are not excluded from being a place for dust to settle. Keeping them regularly dusted will help to ensure you avoid a build-up of thick layers of dust. Use a feather duster or a micro fibre cloth and simply wipe each slat or wooden panel to remove any dust. If you have louvres, simply open them up so you can wipe between each slat easily. If your shutters are quite tall an extendable feather duster may help you reach the tops of your shutters.
You can also use a hoover to hoover the dust up but make sure you use a soft brush attachment so that you don't damage the wood. By keeping shutters dust free with little effort, you can sidestep the worst of the pollen highs in the summer!
Stains
If you notice any stains on your shutters take a slightly damp cloth and rub the area gently but firmly until the stain is removed. You should then dry the shutter to ensure any excess water is removed from the surface and doesn't penetrate into the wood. For rooms where you may have waterproof shutters such as bathrooms or kitchens, you can use a damper cloth to wipe stains away as these shutters have been made to withstand splashes and are therefore water-resistant.
Hinges
You may also notice that your hinges need a bit of a spruce up from time to time. They will have been built to last for many years but there's no harm in checking them every once in a while. If you think your hinges are sticking, you may need to lubricate them with a very small amount of light oil. If you do decide to do this, make sure you protect the rest of your shutter from drips and spills and all other surrounding materials. You can even apply masking tape to avoid any contact with your shutter.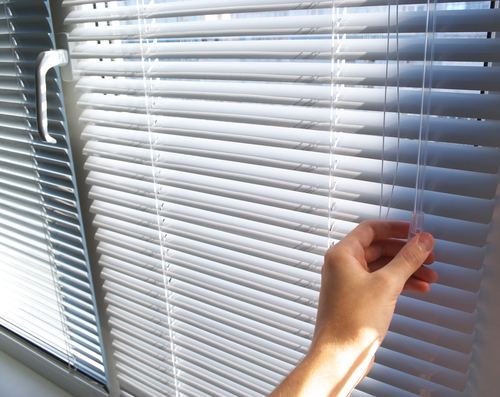 Use them properly
Treating your shutters with care will help to ensure they last a lifetime. Always use the correct mechanisms to open and close the panels and the louvres to avoid them being forced into position.
If you have any issues with your shutters then contact us immediately so we can give you advice and guidance on how to care for your shutters.
If you'd like to find out more about our range of shutters or would like to book a free no obligation survey, please do get in touch today.