The festive season is upon us, and for many of us, the first thing we think about when we reach November is how we're going to decorate our homes for Christmas this year. At Purely Shutters, we believe the windows are the most important place to start. Christmas decorations on the windows spread festive cheer from the inside of your home to the out.
And if your windows are dressed with plantation shutters, you can use them to decorate your home this Christmas. Whether you have tier on tier or full height shutters – or any of our other amazing shutter styles – make the most of them and use them as part of your Christmas decor. To help you decorate your windows this Christmas, we're sharing some great ideas that are guaranteed to add some extra Christmas cheer to your home!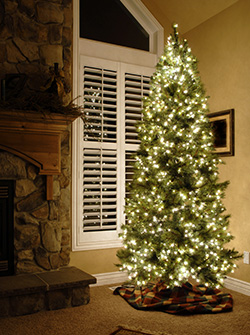 Using Shutters in Christmas decor
If you have shutters installed in your home we wouldn't recommend attaching anything to them just in case your beautiful shutters get damaged. However, they are a wonderful backdrop for a Christmas tree, especially if you have a bay window. You can use lighting to really enhance your tree as well as gorgeous decorations to add extra colour. If you like pulling your shutters back in the day, hang a Christmas wreath or stocking from your window handles.
For a really Christmassy window, simple snow spray ideas are great for giving your windows an extra festive touch.
Recycled Shutters
If you like upcycling and have found some old shutters they really do come into their own at Christmas. Give them a good rub down and make sure they are clean before you do anything – natural cleaning products are best for shutters. You can then decide if you would like to use them as outside decorations or inside your home.
Outside Decorations For Christmas
For outside decorations you can paint lovely Christmas things onto them like snowmen or snowflakes, or you can even attach pretty Christmas garlands to them. If you'd like to use them indoors they make great table runners. Simply create a long garland using cones and fir tree branches which are easy to attach by using the slats. And finally, if you're never sure what to do with your Christmas cards, why not use the louvres on your window shutters to display your cards. Bay window shutters are great for this Christmas decoration style if you hang the string from one end of the window to the other.
Foraging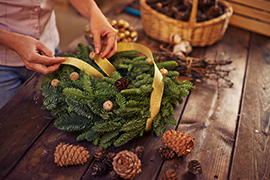 With many of us getting out and about in the countryside this is a great year to bring some of the countryside into your home. Our countryside is full of wonderful things that can be tastefully used to create Christmas decorations. Fir cones often found lying on the ground are a simple yet lovely Christmas decoration. Keep them natural or why not spray with gold or silver spray for a little something extra. Fir branches, evergreens and holly can be used to make garland wreaths. The Woodland Trust has some great ideas for naturally foraged Christmas decorations and how to use them.
There are plenty more Christmas window decoration ideas that will instantly make your home feel festive. The key is to decorate your windows for Christmas in a way that feels special to you. From everyone here at Purely Shutters, we wish you all a wonderful Christmas and a very peaceful New Year.