The countdown has well and truly begun, so how can you make your Christmas décor more environmentally friendly? Plastic pollution has hit our headlines this year on countless occasions. With its devastating effects on our planet and wildlife, we thought we would share with you some lovely, unique Christmas decorations that you can make, that are not only environmentally friendly but will also save you a few pounds.
Christmas Garlands
From pine cones and dried fruit, to twigs and cinnamon clay, you'll soon have your mantlepiece or stair railings adorned with these great ideas. Foraging for pine cones is a great idea in the lead up to Christmas. Gather as many as you can find, even if you don't use them all in decorations they can look just as effective just in a pile!
Add a screw eye hook into the bottom of several pine cones, depending on how long you would like your garland to be, and then pass some rustic string through the eye loop and knot in place. Make sure you space them evenly. You can also add glitter or a sprig of holly to make them even more festive.
For a really fun garland why not use some dried pieces of orange and some gingerbread men made out of cinnamon clay. Not only will your garland be the talk of you Christmas decorations, but you will also add some wonderful Christmas smells to your home. You can find out how to make this garland by following the link: https://www.firefliesandmudpies.com/old-fashioned-holiday-garland/
Tree Decorations
To make some simple but gorgeous tree decorations you can use some of your leftover pine cones, some twigs or sticks you've found outside and any old ribbons or pieces of unused material. If you have some screen eye hooks left, screw one into the bottom of your pine cone but be aware that this will actually be the top of your tree decoration! Thread a piece of ribbon through and knot at the end. This will be the string that you use to hang on your tree. Thread some festive ribbon through the eye hole as well and then tie in a bow. To complete the look, stick some holly berries and leaves around the top until it is all covered. For further instructions and more ideas visit: https://thefarmgirlgabs.com/rustic-pinecone-ornaments/
Home Decorations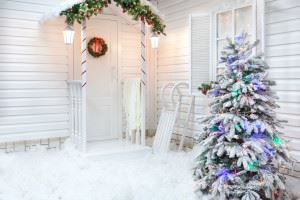 Decorating your home both inside and out is a great way to use up old bits of wood, flower planters and basically anything that can be painted or decorated. For striking simple stars get 5 pieces of wood, create a star shape, then tie the pieces of wood that cross over together with rustic string to create a firm structure. Finally tie one long price of string at the top, so you can hang in your home.
If you have had your shutters replaced you can make use of your old ones for displaying your Christmas cards, or why not make some floor standing features. If you have a selection of paints you can create wonderful designs of snowmen or winter scenes. If you're not much of an artist simple lettering in festive colours will work just as well. Take a look on Pinterest for some great ideas: https://www.pinterest.co.uk/pin/532198880959316950/
And to invest in sustainable wood shutters, click here to see more.