I was sitting in my little garden drinking a cup of coffee over the weekend, reflecting on the joyous rediscovery of cream.  Not the type you would put in your coffee, I might hasten to add.  When you get past your 20s, nasty words like calories and cholesterol creep, like unwelcome weeds into your vocabulary and weld themselves to you guilt nodes, robbing all the pleasure out of eating strawberries during Wimbledon fortnight in one fell swoop. No, I am referring to the creamy colour palette which abounds today.
The 60s were full of Mary Quant monochrome, stark blocks of black and white, which evaporated towards the end of that decade to welcome the neon of the Flower Power revolution – many 40 something ladies will remember this style of wallpaper.
During the 80s everything was glass, boxy and angular with tubular wooden or steel legs. This trend, in turn faded away during the mid-80s to a welcome a romantic Victoriana or to be more precise Edwardian resurgence.   Everything was pine, frilly, and curved with a hint of "shabby chic".  Windows were all but obscured by wine red or navy coloured drapes with huge swags and pelmets, set against a back drop of magnolia painted walls and with floral friezes .
Then of course, that famous Swedish flat pack furniture store arrived.  Out went the heavy prints, in came plastic coated chip board and accent walls in garish colours, with enormous geometric or botanical silhouettes in contrasting colours.  Furniture had become almost disposable, or temporary with the idea that "we will upgrade when…" tripping of the tongue, as if to justify a new purchase.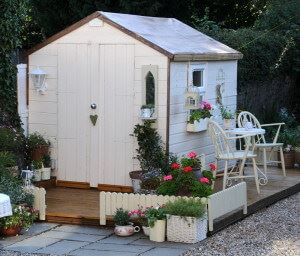 However, in the past few years "quality" has returned to our furnishing consciousness. Maybe this is the unwitting backlash to the much publicised "age of austerity" but whatever its cause, the re-emergence of the ideals of quality are very welcome.  Along with this renewed focus has come a whole new colour pallet, with rich creamy tones. The accents walls are still there, but not neon, or garish.  Tables are now solid woods, oaks and pines along with a pride of ownership. Even our mugs are blooming, literally, with hand printed designs from the likes of Emma Bridgewater and Cath Kidston.  Our homes have become more relaxing again, even our garden buildings have become an extension of our taste, rather than a utilitarian box to house rusting and rarely used tools.
And, with these relaxed thoughts running through my head, I ponder, which colour will I paint my garden shed? I have not decided yet, but it will definitely have a creamy undertone.
At Purely Shutters, we pride our self with the quality of workmanship in all of our products. Our plantation shutters come in up to 7 shades of whites and creams to match what every interior look you desire.  We also have solid woods shutters and window shutters which can be stained to create up to 17 different looks to inspire and enjoy.