When it comes to dressing your kitchen windows, there are a lot of factors to consider! Being the hub of delicious meals and a conversational cuppa comes with its complications, as cooking environments are a constant output of heat, moisture, and smells. Decorating the space can be a tightrope walk between fashion and function, as sometimes you have to sacrifice one for the other! Here to provide you with both, we believe in stylish, practical solutions, so read on and discover what makes shutters an excellent idea for your kitchen window ideas.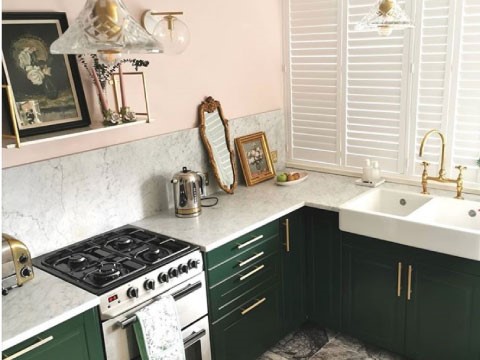 Shutters vs Curtains and Blinds in the Kitchen
Exactly what are the best window coverings for a kitchen? While curtains, and more recently blinds, are a common choice, they both come with their impracticalities for one of the most important rooms in the house! Curtains are dwindling in popularity for kitchen windows, being that they come with increased fire risks, can blow around easily with a draught and their fabric design is prone to absorbing the inevitable scents and splashes that come from a well-loved kitchen. Unfortunately, mildew and mould are a likely outcome when it comes to hanging heavy fabrics in steamy spaces – not what you want near food! Fabric blinds come with similar issues, and even venetian blinds have the drawback of being flimsy and rattling in the wind.
Why are Shutters Best for Kitchens?
So what would you gain from investing in kitchen window shutters? Perhaps most importantly, we stock stunning waterproof shutters, an easy-maintenance, quick-clean option suited to the steam and splatter that comes with the territory. A more suitable option than hardwood, our resin based blinds are impervious to the occasional unavoidable spray of pasta sauce or puff of water vapour, making them a kitchen window's best friend. 
A match made in heaven with windows, shutters allow you to adjust the slats and invite the sun in while enabling you to keep your room private if overlooking busy streets. Increasing the security and cosiness of your interiors, you can comfortably cook dinner without fear of performing to a parade of passers-by, and not needing to concede the beautiful evening light. Kitchen shutters also allow you to open the windows and welcome fresh air, while maintaining the level of privacy you desire.
Yes, all of these benefits are a real selling point, but the question on everyone's lips is 'will it go with my interiors?'. The beauty of shutters is they're an ultra versatile window dressing, suited to most interior styles. From classic design to modern concepts, this wonderfully minimalistic window treatment complements most aesthetics. Our Waterproof interior shutters are available in fresh white shades, impossible to clash with existing colour schemes. Great for small kitchens too, shutters fit neatly into frames for a sleek appearance, making your rooms feel bigger!
What Shutter Style is best for the Kitchen?
Every home is unique, and as are your windows! Casement windows, Sash windows, or even unusual shaped windows are just a handful of popular window types. Thankfully customising shutters to suit your windows is our speciality. When it comes to kitchen windows, there are a few main shutter styles that we'd recommend.
Café style shutters are a chic option, covering half of the window while still providing privacy for the majority of your room. This is a brilliant choice for interiors that you'd wish to keep light and airy, while still being shielded from onlookers. A more continental look, this shutter also makes a stylish statement with the distinct 'half-shutter' appearance, for a distinguished French café vibe.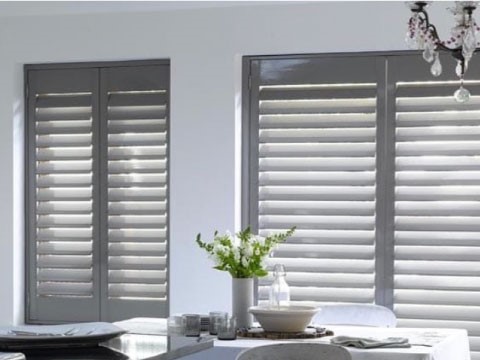 Full height shutters are a style that you may be familiar with – this classic shutter offers a single panel that covers the whole window, making it suited to kitchen doors too! If you're looking for a full coverage option that can be controlled through an individual tilt rod, it sounds like full height is your way forward.
Tier-on-tier shutters (AKA double hung shutters) blend together the perks of full height and café style – stacking separate panels on top of each other to provide you with more lighting and privacy options than full height shutters. A must have for kitchens that require a range of lighting options, they are great for windows with a street view.
Of course, if your home has unusual shaped windows, we also offer bespoke shutters to fit too! No special shape window is too much trouble.
If you're ready to make the change to beautiful shutters for your kitchen windows, you can get a quick quote or book a free home survey today.